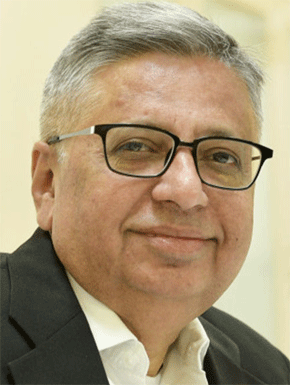 Bhubaneswar: A Passionate Educationist Prof. (Dr.) S K Nayak has been appointed as Vice Chancellor of Ravenshaw University.
Professor Ganeshi Lal, Governor of Odisha has appointed Prof Nayak, as the new Vice Chancellor of the Premier University of the State for four years.
Prof.Nayayk is currently serving as Director General of CIPET has more than 30 years of expertise in Teaching, Research and Technical Consultancy.
Prof. Nayak holds dual Ph.D Degree, both in Science & Engineering, and also conferred with D.Sc Degree on "Advanced Thermoplastic Composites & Nanocomposites".
He has extensive post-doctoral research experience from many distinguished universities in diversified areas of Polymer Science Engineering & Technology.
As a disciplined academician, he streamlined the educational system for creating technical manpower for all tiers of an industry from shop-floor employees, plant supervisors, managers and researchers to entrepreneurs.
He has facilitated creation of all requisite amenities for modern higher technical education through emphasis on hands-on practical oriented training, with high-end research and interactive mode of teaching. Under his leadership, CIPET with its Pan India presence grew to a distinguished Academic and Technology Hub, sought after by the major Universities & Industries in India & abroad.
Prof. Nayak has been a mentor, philosopher and guide to his group of faculties, scientists and Ph.D. scholars in all their ventures. He has mentored more than 50 scholars for Ph.D program and 75 students for their M.Tech / M.E thesis. Through these years, he has kept his research alive, which is evident from around 500 publications in peer reviewed International Journals, more than 300 International Conference papers and several Patents and Designs to his credit.
Prof. Nayak has deliberated his thoughts & expertise in the form of 30 Books / Book Chapters mostly with international publishers, which has been ready-reference material to the students, academicians and industrialists. Moreover, he has been actively contributing towards indigenous technology development through funded Research Projects and Consultancy Services to the industries.
He has displayed excellence and keen interest in designing various Academic, Scientific and Administrative policies, for ascertaining the role of Polymer & allied industry in socio-techno-economical growth of the country.
He is also the recipient of many awards. Few of them namely, 'Distinguished Scientist Award' in appreciation to his contribution to Polymer Science & Technology by Asian Polymer Association (APA), 'Commendable Faculty Award' for Research in Material Science & High Citation Index (as per Scopus) by Careers 360, National Awards for Technology Innovations in Petrochemicals and Downstream Plastics Processing Industry and FICCI Chemicals & Petrochemicals Award 2018 for Distinguished Contribution to Indian Plastics Industry in recognition of his outstanding leadership and tireless efforts over the years to the Indian Plastics Industry.
He has been featured as one of the top 2% of the Global Scientists in the field of Polymers in a study by Prestigious Stanford University, USA based on the databases of Standardized Indicators, Composite Citation Index, h-index, co-authorship adjusted HM-index and Citations to papers in different authorship positions.