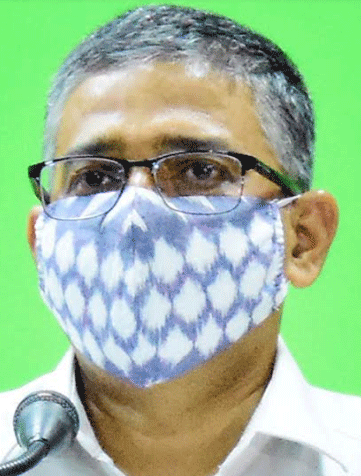 Bhubaneswar: ACS  Health and Family Welfare Pradipta Kumar  Mohapatra has informed  District Collectors, Municipal Commissioners, CDMs and PHOs Wednesday that  the three private hospitals have contacted Covid vaccine manufacturer Serum Institute of India (SII) for procurement of 12,000 doses of Covishield vaccine each.
The Ministry of Health and Family Welfare informed the Odisha Government about the private hospitals who have placed orders with the vaccine manufacturer, mentioned the letter.
Notably, the Union Government has allowed private hospitals procure Covid vaccine directly from manufacturer under its new strategy to accelerate the Covid vaccination.
The Health and Family Welfare department issued guidelines for private hospitals to ensure seamless vaccination of eligible beneficiaries.
The State Government has also decided to facilitate COVID-19 vaccination of healthcare workers' family members.
Mr.Mohapatra has written to all Collectors and Commissioners of Municipal Corporations in this regard.
"I am to say that since the beginning of the COVID-19 pandemic, our Healthcare Providers have been fighting relentlessly to provide quality services to the community for saving valuable lives of people in our State. The vaccination of Healthcare Workers started on priority from 16 January, 2021 and in our State more than 95% of Healthcare Workers have been vaccinated till date," wrote Mr.Mohapatra in the letter.
"It is pertinent to mention here that the family members of these healthcare providers are equally at risk for COVID-19 infection because of the nature of work of healthcare providers," the official said.
"In this context, it is requested to facilitate COVID-19 vaccination of the family members of healthcare providers at health facilities in your district/Corporation at suitable CVCs," he concluded.
State's COVID-19 tally surged to 6,44,401 on Wednesday after 11,099 people tested positive, while 21 more fatalities pushed the death toll to 2,378, a health department official said.
The coastal state now has 1,05,375 active cases, and 5,36,595 patients have recovered from the disease, including 10,2422 since Tuesday, he said.
Of the fresh cases, 6,214 infections were detected in quarantine centres.
Khurda district, comprising state capital Bhubaneswar, reported the highest number of 1,460 new cases, followed by Sundergarh (983), Cuttack (867), Angul (552) and Sambalpur (547).
Taking to Twitter, the Health and Family Welfare Department said, "Regret to inform the demise of twenty one numbers of Covid positive patients while under treatment in hospitals."
Kalahandi accounted for three deaths, while two each died in Khurda, Koraput, Mayurbhanj, Sambalpur and Sundergarh, the official said.
Till date, a total of 53 other COVID-19 patients have also died due to comorbidities, he said.
Odisha has so far conducted over 1.10 crore sample tests, which included a record 60,510 on Tuesday.
The positivity rate stands at 5.83 per cent. With the state continuing to report around 10,000 new COVID-19 cases daily, authorities on Tuesday extended the ongoing lockdown with stricter restrictions by two more weeks till June 1.
The government has also constituted a state-level task force that will take initiatives to increase production and provisioning of medical oxygen.
Six more servitors engaged in construction work of chariots for upcoming Ratha Jatra in Puri tested positive for COVID-19.
Two Maharana servitors of Nandighosha Ratha (chariot of Lord Jagannath) among six were diagnosed with the deadly virus.
With this, the number of servitors in Puri infected with COVID increased to 186, of which 3 have succumbed to the virus, 130 have been recovered and 53 are under treatment, a source in Shree Jagannath Temple Administration (SJTA), Puri, said.
In order to facilitate smooth supply of medical oxygen, Odisha Government ordered exemption of toll tax for vehicles carrying the same.
Accordingly, tax will not be collected from vehicles carrying medical oxygen in tankers or cylinders at all toll plazas under state Government. The order will remain in force till July 30, 2021.
"The decision was taken keeping in view the current pandemic situation and to facilitate smooth supply of medical oxygen to different hospitals and COVID Care Centres (CVCs) in the state," said a senior official.
Earlier on May 8, the Ministry of Road Transport and Highways had exempted the user fee for vehicles carrying Liquid Medical Oxygen (LMO) at toll plazas across National Highways (NHs).