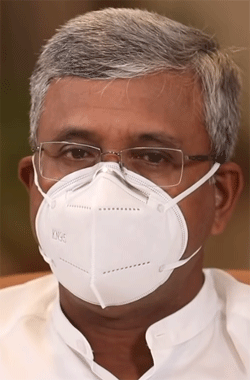 Bhubaneswar: All major industries in the State have agreed to partner with and join the efforts of State Government in accelerating the vaccination process in State.
The State Government had urged the corporate sector and leading business establishments to organize vaccination programme.
Principal Advisor to Chief Minister Asit Tripathy chaired a meeting in which these corporates and business establishments agreed to organize vaccination by procuring them from open market.
Principal Secretary Industries Hemant Sharma briefed the representatives of the major industries in this regard, said sources.
Managing Director IPICOL, FICCI Odisha Head, CII Head Odisha and ICC Odisha Head attended the meeting while PSUs like RSP, MCL, NALCO, IOCL, IFFCO, NTPC, GAIL, HPCL, BPCL, HAL and others joined the meeting.
Representatives of Tata Steel, JSPL, JSL, HINDALCO, Vedanta, ACC, PPL, JSW, Arcelor Mittal, IFFCO, TCS, Dhamra Port, RAMCO, and others in Private Sector attended.
State Government agreed to coordinate with industrial establishments and corporate sector in the State for purchasing Sputnik V vaccine for vaccination of their employees and family members.
The Department of Health & Family Welfare will facilitate with Dr. Reddy's Laboratories Limited, Hyderabad to procure the required quantity for industrial and corporate sector.
The purchase of Covishield, Covaxin and Sputnik V has been allowed for the industrial and corporate sector.
The Union Government has now opened 50 per cent of the produce of the domestic vaccine manufacturers to be given to the states and to the market.
The trade bodies are not only to vaccinate their own employees but also the family members of their employees and also the contract workers and their families.
The trade bodies were advised to raise issues which may confront the small and medium sector industries who want to voluntarily procure vaccination for their own employees so that the government will try and assist them.
The vaccination of the employees is also as per India's policy and can be a way forward in sustaining commercial operations of industry and business . It will mitigate risk in times of pandemic. All the large industries who participated agreed to go by this, pointed out a senior official of the Department of Industries.
During First Wave of COVID-19, Corporate Sector organized COVID Hospitals and supported their employees in providing health care facilties. Now with Second Wave COVID-19 hitting the State, these leading organizations have agreed to take up the responsibility.
In the meantime, State Government has formed a State Level Task Force to take up short, medium and long term steps for provisioning Liquid Medical Oxygen (LMO) in all health care facilities in the State.
The Nine Member Task Force will also plan Long Term Medical Oxygen Security in the State.