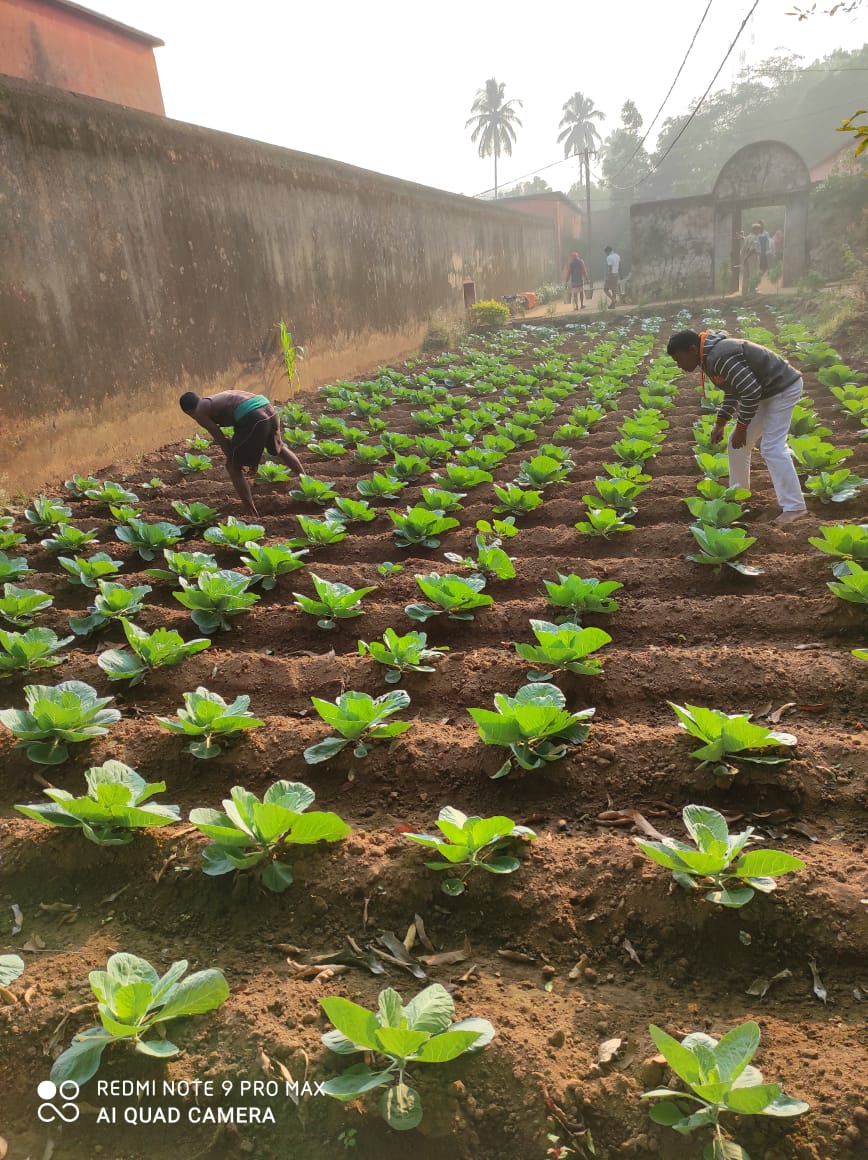 Dhenkanal: DG Prisons Santosh Upadhyay is happy with the Dhenkanal District Jail has now turned into a model for farmers and it is motivating them in a big way.
Mr.Upadhyay has been the guiding force for the Jail authorities who have been not only producing organic vegetables products but for pure milk on a regular basis.
The Jail Administration has used prisoners as skilled farming work force.
The 103 year old jail is providing inmates that opportunities for earning, learning, skill upgradation and reforms.
The District Jail is rearing milching cows which produce an average 45 to 60 litres on a daily basis.
They are given natural feed and the cow dung is used as organic fertilizers for growing vegetables in the jail premises.
As many as 60 prisoners, Under Trial Prisoners (UTP) and Lifer- earn handsome amount growing organic vegetables and looking after the cows with prior training. Most of them are skilled in some trade or the other.
Though the milk producing companies have several outlets in several places in town, people line up in front of the District Jail to get pure milk at cheaper rates, said a senior citizen of Dhenkanal Town.
The Prison Administration charges Rs 44 per litre which is two to three rupees less than the market price. Same is the case for vegetables.


The inmates grow brinjal, green vegetables, spinach, pumpkin, bananas, moringa and drum sticks, ladies fingers, bitter gourds and several others all seasons.
This apart they also produce various daily use items like napkins, mat, other handlooms products and sell in outlets outside jail premises.
While earlier the Jail Industry was functioning at a slow pace but now it is running with full steam providing with a large variety of products.
"Now we have planned to produce atta and flour mills in the jail premises. Machines and instruments are ready for production," informed Jail Superintendent Anil kumar Sahoo.
Earlier Brahmakumaris have imparted training on Raj Yoga , now another Yoga for physical exercise to keep health fit to be imparted soon.
Senior Jailor Rashmi P Ray said that the authorities are trying their best to increase the earnings of the prisoners.
"We have industry having various departments like dairy firm, vegetables, cloth industry, organic farm unit . We are running these with our trained human resource," she said and added, "We have taken many initiatives with guidance of DG Prisons Santosh Kumar Uppadhyay, who had visited the jail recently and given several useful suggestions. Each inmate gets Rs 40 to Rs 50 for spending 4 to 5 hours a day. The inmates are happy."