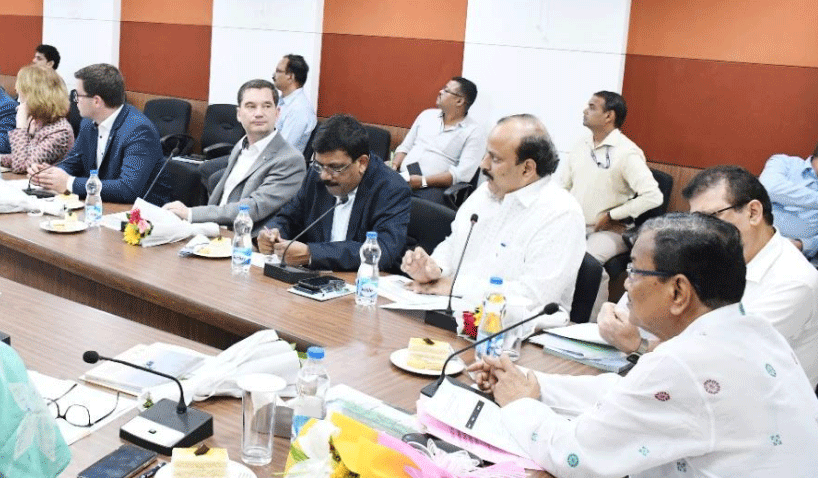 Bhubaneswar: The Odisha Government has given utmost priority to the safety and security of biodiversity and wild animals as well as water conservation, Forest Minister Pradip Kumar Amat said here on Tuesday.
During a meeting with the delegates of German Government's Environment Parliamentary Committee here, he said for proper protection to the state wildlife and their habitat 19 wildlife sanctuaries have been notified under the provisions of Indian wildlife protection act 1972.
The Odisha government has given utmost priority to the safety and security of Olive Ridley turtles, informed Amat.
To conserve the bio-resources of the State with peoples' participation, the government has constituted as many as 7256 Biodiversity Management Committees (BMC), he stated.
The State has also formulated the State Action Plan on Climate Change (SAPCC) for 2021- 2030 considering the commitments made under Nationally Determined Contributions and Sustainable Development Goals and convergence with other state priorities. Odisha is the first and only State to get approval on the State Action Plan on Climate Change 2021-2030, Amat added.
Climate Change, bio-diversity and wildlife, water and its quality conservation are the issues of the hour and the countries around the globe have to join hands for the safety and security of these living essentials, stated the German delegates.
They shared their joys seeing the beautiful rivers, flora and fauna of the State from the sky.
The State government has always given importance to the conservation bio-diversity, wild animals, mangrove forest and successful management of natural calamities. Bana Surakhya Samitis are providing the necessary supports in this regard, stated Additional Chief Secretary Mona Sharma in her welcome address.
GIZ has selected Bhitarkanika as pilot RAMSAR site. Chilika Development Authority (CDA) conducted a study on the hydro-ecological assessment for integrated management of the Bhitarkanika Ramsar site.
It has carried out field survey and analysis of long term secondary data and recommended management measures to ensure hydrological regime and monitoring parameters for the water quality assessment and preparation of the health report card, elaborated CDA Chief Executive Susanta Nanda.
Among others, PCCF & HOFF, Debidutta Biswal, PCCF Nodal Susanta Nanda, PCCF Wildlife, Sushil Kumar Popli, Member Secretary Odisha State Pollution Control Board K Murugesan and other officials were present along with the delegates.