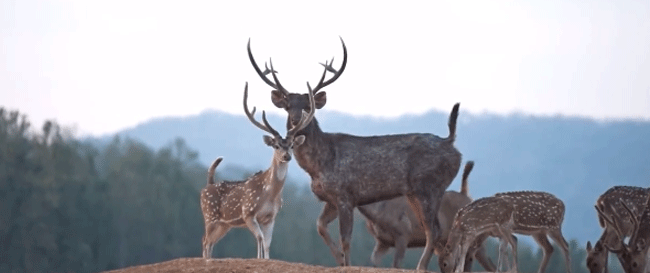 Baripada: President Droupadi Murmu on Friday visited Similipal Tiger Reserve (STR) and undertook a safari to site wildlife animals and enjoy the natural beauty of the flora and fauna.

Shrimati Murmu, who is on a three-day visit to home district Mayurbhanj, stayed at her house in Rairangpur on Thursday night. Though she was scheduled to stay at a government bungalow at Rairangpur, she did not miss the chance to stay with her family members and relatives at her own house.
She started the second day of her Mayurbhanj visit by paying tributes to Pandit Raghunath Murmu, the inventor of the Ol Chiki script of Santali language, at his birthplace Dandabosh village on the occasion of his birth anniversary.
Shrimati Murmu paid floral tributes to Giani Zail Singh, former President of India on his birth anniversary at Rairangpur. Later, she visited Similipal Tiger Reserve. This was the first by any President of India.
Similipal National Park authorities said elaborate arrangements have been made for the President's visit. She visited Chahala in the core area, where local tribal food was served to her and then taken to a guided tour to see deer, sambhar and elephants.
Spread over 2,750 sq km area, the national park is home to Royal Bengal Tiger and Asian Elephant.
The President also visited the waterfalls at Barehipani and Joranda. Bareipani is the second highest waterfall in India at 399 metres, while Joranda is 150 metre high.
The Similipal National Park has been made out of bounds for visitors for two days from May 4 in view of the President's visit.
After her return from Similipal, she is now at Baripada, where she will spend the night and attend the convocation of Maharaja Sriram Chandra Bhanja Deo University on Saturday before flying back to Delhi.