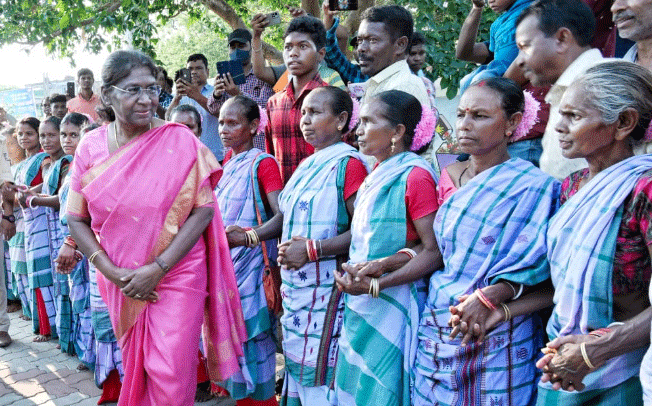 Rairangpur: President of India Droupadi Murmu on Thursday began her three-day long official visit to native district Mayurbhanj.
The President landed at Badampahar helipad in Mayurbhanj district at around 10.25 AM this morning from Kalaikunda Airport in West Bengal by an IAF helicopter. Governor Ganeshi Lal, Union Minister Bishweswar Tudu and State Minister Prafulla Mallik welcomed Murmu at Badampahar helipad.
Soon after landing at the helipad, Shrimati Murmu visited her in-laws' village Pahadpur, where a rousing traditional reception was given to her. This is the maiden visit of Shrimati Murmu after becoming Head of the country last year.
At Pahadpur, she laid a garland at the statue of her husband late Shyam Charan Murmu.
She also laid the foundation stones of a community centre at SLS Trust School to be built by NABARD and a skill development centre. She spent some time with the school students and villagers at her in-law's village.
The Tribal Development Project of NABARD will touch the lives of 100 tribal families of Pahadpur village and another 400 families from the adjoining villages. The aim of the project is to increase the annual income of each family to Rs.1 lakh from one acre of land. Mango and Cashew plantation is proposed to be taken up in the project area. An amount of Rs.5.16 crore is being provided by NABARD as grant assistance for the implementation of the project, officials said.
The livelihood project covers 90 SHG women from Pahadpur village. An amount of Rs.10.00 lakh has been sanctioned by NABARD for this activity. Under the project training and capacity building will be provided to the women for taking up mushroom cultivation.
A Community Centre will also be set up at Pahadpur village supported by NABARD. The project is expected to play an important role as a training hall for social developmental programmes in the village.
The President laid the foundation stone for Skill Hub at SLS Residential School which was her in-laws' ancestral house. She had converted husband's ancestral house into a residential school in memory of her husband Shyam Charan Murmu, elder son Laxman Murmu and younger son Sipun Murmu, who passed away due to different reasons between 2009 and 2014.
From there, the President visited Brahma Kumaris Centre, Hatbadra, Satapautia, where she launched the Addiction Free Odisha campaign. 
Speaking on the occasion, the President said that addiction is a disorder. It is a social, economic, physical and mental curse. Drug addiction causes tension in family and society. Therefore, there is a need to make people aware about the ill effects of drug abuse, she said.
She expressed confidence that when people understand the bad effects of drug abuse, they would definitely try to quit it.
The President said that addiction is the biggest enemy of society. Therefore, it is a noble deed to make people aware about it. She appreciated Brahma Kumaris Centre for being engaged in building a healthy society through spirituality. She wished for the success of the 'Addiction Free Odisha' campaign.
She also inaugurated a 100 feet tall flag mast hoisting the national flag near Badabandha. She then went to Rairangpur, where she will spend the night.
At Rairangpur, from where she began her political career as Councilor of Rairangpur Municipality, a rousing reception was given to the President. Shrimati Murmu also felicitated personalities from different sections of the society at Rairangpur.
Addressing the people of Rairangpur, she remained her earlier days and said though Uparbeda village has given birth to her, Rairangpur has given rebirth to her and all kinds of motivation to reach their position today.
"People are telling me that Rairangpur has become famous for me. But, I can say…..it is for Rairangpur, today, the whole world recognizes me," the first citizen said.
On May 5, she is scheduled to visit her Rairangpur residence and will spend about 20 minutes in the holiday home. From there, the President will visit Pandit Raghunath Murmu's village Dandbosh and later to the Similipal Tiger Reserve (STR) and spend the night at Baripada.
The President is scheduled to attend convocation of Maharaja Sriram Chandra Bhanjadeo (MSCB) University, Baripada on May 6.
In view of the maidan visit of the President to her hometown, tight security arrangements have been made in Mayurbhanj district. About 50 platoons of police force have been deployed at different locations.