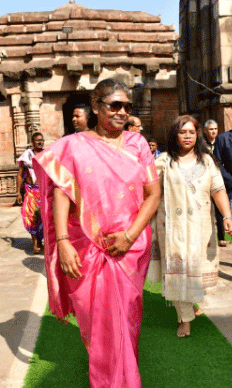 Bhubaneswar: President Droupadi Murmu Saturday offered prayers at the 11th century Shree Lingaraj Temple here. She was accompanied by her only daughter Itishree
Before entering into the 11th century shine, Shrimati Murmu walked down to the sacred Bindusagar Tank and sprinkled water on her body.
When she walked down on the road a large number of people gathered on both sides of the roads to have glimpse of the President with all respect. They were waiving National Flag to the President.
Inside the sanctum sanctorum of the shrine, she offered her prayers to Lord Lingaraj.
The President also visited temples of Maa Bhubaneswari, Maa Parvati, Siddhi Binayak and Brushaba (Nandi) temple within the premises.
She spent around 40 minutes in the Shree Lingaraj Temple and its premises.
In the visitor's book, Shrimati Murmu wrote how she felt blessed to have offered prayers to Lord Lingaraj. She wrote in Odia language on wishing well being of the entire world and all the citizens of India.
Governor Prof. Ganeshi Lal, Commissioner of Police Saumendra Kumar Priyadarshi and senior officials of Odisha Government were present at the temple to welcome her.
During her visit, the temple remained closed for general devotees for security reasons.
The temple trust gifted a photograph of 'Damodar Vesha' of Lord Lingaraj, which is done during the Shivaratri and Kartik month rituals, to the President.
There was tight security in and around the temple.