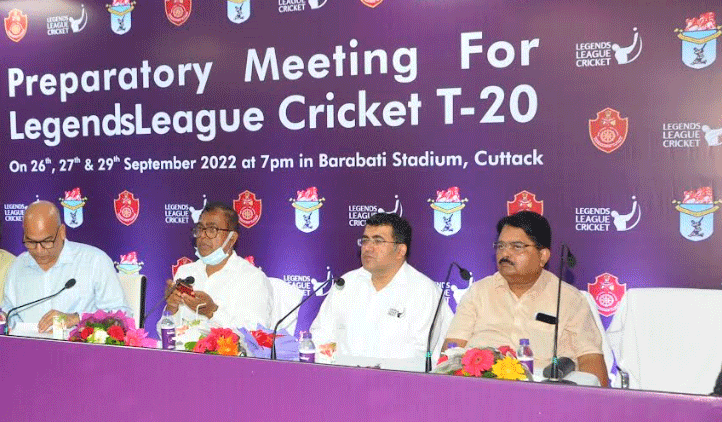 Cuttack: Pankaj Lochan Mohanty, President Odisha Cricket Association (OCA) has said that the Legends League Cricket T20 Matches are scheduled to be held on 26, 27 and 29 September at the Historic Barabati Stadium.
OCA Chief Mr.Mohanty said that after successful hosting of T 20 International Match between India and South Africa in the Historic Barabati Stadium another International Standard Match is being hosted.
Mr.Mohanty said that all the Stake Holders Meet was held for smooth conduct of the upcoming Matches, which was presided by Twin City Police Commissioner Saumendra Kumar Priyadarshi.
Top Cop Mr.Priyadarshi conducted the Meeting smoothly in which all the stake holders participated whole heartedly.
Subash Singh, Mayor, Cuttack Municipal Corporation (CMC), Bhabani Shankar Chayani, District Magistrate, Pinak Mishra, DCP, Nikhil Pavan Kalyan, Commissioner CMC, Sanjay Behera, Secretary OCA, Subrat Kumar Behera, CEO OCA, Avishek Mazumdar, VP LLC and other stake holders attended the Meet.
Detailed discussion was held and it came to light that Government of Odisha has decided to extend all out support for the Upcoming Event.
Absolute Legends Private Limited is conducting Three T 20 Matches of the Legends League Cricket T20 in association with Odisha Cricket Association, said Mr.Mohanty, OCA Chief.
After successful hosting of the First Edition of this Legends League at Oman, the Company is conducting 2nd Edition of this League in India.
On 26 September, Manipal Tigers will take on Bhilwara Kings, on 27 September Gujarat Giants will face Bhilwara Kings and on 29 September, India Capital Vs Manipal Tigers Match will be conducted.
Manipal Tigers are led by Harbhajan Singh, Bhilwara Kings are led by Irfan Pathan, Gujrat Giants led by Virendra Shewag and Manipal Tagirs led by Gautam Gambhir.
Online Ticket Selling is being done @bookmyshow.com. Offline Ticket selling will start from 22 September.
Offline Ticket selling for affiliated units and former Ranji Trophy Players is 24 September.
Since all the legendary cricketers are participating in this Legend League so the Department of Sports and Youth Affairs of Government of Odisha and Odisha Cricket Association will extend all kinds of support to the Teams for smooth conducting of all the matches.