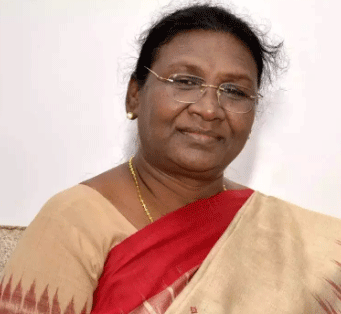 Bhubaneswar: There were prayers, lighting of diyas, pujas and yagnas at different temples and places of worship across the state for 'Daughter of Odisha' Droupadi Murmu.
Ms.Murmu is trying her luck for the country's topmost post, the elections for which is being held on 18 July.
State reverberated with recitals of Shlokas, Prayers and lighting of diyas at different places beginning with Lord Jagannath Temple in Puri ahead of the voting for the Presidential elections.
While supporters of BJP and RSS karyakartas organised pujas at different temples, the members of the Santhal tribal community in Mayurbhanj, Keonjhar, Sundergarh and some other districts invoked the blessings of their God Marangburu and Goddess Aera and also called Jaherayo.
"Adivasis, both men and women thronged the Jaher (tribals place of worship) here and offered pujas seeking grand success of Droupadi Murmu, a member of the Santal tribal community," said the Nayeke (priest) of Bada Putuka Jaher in Mayurbhanj district.
Rameswar Tudu of Juluku Jaher and M Soren of S Putuka Jaher also narrated the same experience as a large number of tribals thronged the place of worship. "Though there was no specific tribal festival, still there was a large congregation at different Jaher across Mayurbhanj district, they said expressing confidence that the tribal God Marangburu will ensure victory of Droupadi Murmu.
The tribal pujas seeking blessings for Droupadi Murmu were much above politics and the tribal leaders of different parties also joined the grand pujas on Saunday, said Mangal Marandi of Gayal Mara Jaher.
All the district units of the BJP also organized pujas in different districts seeking grand success of Murmu While BJP state president Samir Mohanty joined the Puja and Diya lighting at Shri Lingaraj temple here organized by Bhubaneswar unit of the BJP, party MLAs led by Puri lawmaker Jayant Sarangi performed puja and lighted Diya in front of Lord Jagannath Temple in Puri.
"She (Murmu) has the blessings of Lord Jagannath. It is a proud moment for us and all the citizens of Odisha that a tribal female is going to be elected as the first citizen of India," said BJP's Deputy Leader in Odisha Legislative Assembly, Bishnu Charan Sethi.