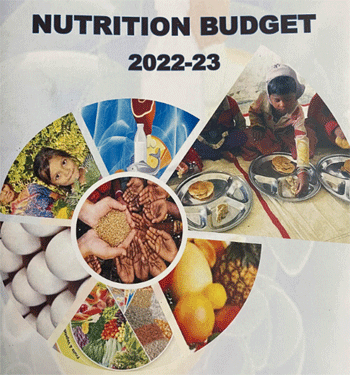 Bhubaneswar: In order to improve nutrition attainment in the State, Odisha Government has formulated a massive Nutrition Budget with a kitty of more than Rs.41,000 Crore. For the first time such a huge allocation has been made during 2022-23.
While investment in nutritional interventions for children, adolescent girls and women is the utmost priority of the state government huge hike in allocation in this sensitive sector will go a long way for improving nutritional outcomes in the State, officials say.
According to Budget Estimate, Nutrition Budget holds more than 20 Percent of the Total Annual Budget, focusing keenly on bettering the nutritional status of most vulnerable section such as children, women.
And accordingly, state has made strategic budgetary intervention for which Rs.41,239.62 Crore has been allocated in the Nutrition Budget for 2022-23.
Officials say that Nutrition Budget helps prioritize the allocation of financial resources for all schemes and programs addressing the nutrition in the state.
Odisha Government is implementing 24 Nutrition Specific and 132 Nutrition Sensitive Schemes.
Largest numbers of nutrition specific schemes are implemented by Departments of women & Child Development, Food Supply & Consumer Welfare, School & Mass Education.
Similarly, nutrition sensitive schemes are implemented by Departments of Agriculture & Farmers' Empowerment, Fisheries and Animal Resources Development and Women & Child Development.
While nutrition sensitive components comprise 84.62 Percent, nutrition specific component include 14.38 Percent of the Nutrition Budget.
Nutrition Specific Sector has been allocated Rs.5408.72 Crore and Nutrition Sensitive sector has got Rs.35,830.90 Crore.
In fact, such an initiative has helped the State as it is a frontrunner of many health & nutritional indicators. There has been significant increase in early child health indicators such as early initiation of breastfeeding, exclusive breastfeeding, complementary feeding and adequate diet diversity in children, which are above the national averages.
Odisha has ranked Number One in the country in terms of indexing IYCF Indicators.
The big leap in children receiving adequate diet has been one of the most remarkable and noteworthy achievements. This is one of the most important determinants in reducing stunting in children.
While Odisha is on a mission mode to improve nutritional status of its citizens, specifically children, women, more schemes and programs are included in 2022-23, officials admit.