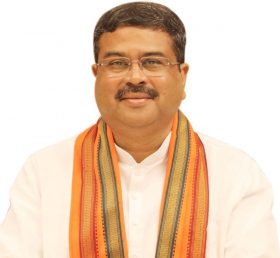 New Delhi: Union Minister Dharmendra Pradhan demanded his Cabinet colleague Bhupender Yadav for establishment of an ESIC sub-regional Office at Jharsuguda under ESIC Regional Office, Bhubaneswar.
Writing a letter to Mr.Yadav, the Education Minister said as on March 31, 2020 is 7.41 lakh insured persons have been attached to the ESIC Regional Office, Bhubaneswar and is not easily accessible for the employers and beneficiaries from the western part of the State.
Hence, a proposal has been put forth for creation of a sub-regional office at Jharsuguda, he said.
Out of the 30 districts in Odisha, 17 districts are nearer and easily accessible to ESIC RO, Bhubaneswar while 13 districts are comparatively nearer to the proposed Sub-regional office at Jharsuguda, he pointed out.
Moreover, the Jharsuguda district is considered as one of the most developed and urbanized areas in Odisha because of the concentration of a large number of small scale and large scale industries. It is estimated that more than 30 major employers are functioning in and around Jharsuguda and the adjoining Rourkela area in Sundargarh district, Pradhan further said.
Stating that most other States have at least one or more No. of SROs, the Union Minister said Odisha has no SRO at present.
The Regional Office is receiving many complaints and grievances from employers and employees out of Western side of Odisha who are facing difficulties in taking up their issues physically at the RO due to the long distance.
Keeping in mind the benefit of the employers and ESIC beneficiaries in western Odisha, he sought personal intervention of Yadav in directing his officials for a favourable consideration of the proposal for creation of an ESIC Sub-regional Office at Jharsuguda under ESIC Regional Office, Bhubaneswar.
In another letter, Pradhan requested the Union Minister for early establishment of 12 new dispensaries at Talcher, Jaleswar, Nilagiri, Soro, Dhamara, Trisulia, Adaspur, Jagatsinghpur, Joda,Nimapada, Banal and Koira and shifting of one dispensary from Brajrajnagar to Belpahar in Jharsuguda was submitted to HQ office, ESI Corporation.