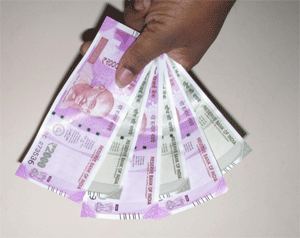 Bhubaneswar:While Covid-19 Pandemic situation posing serious economic stress in the State, reluctance of the Bankers to provide much needed credit support to the people engaged in Industry, Trade and Business has come as a double whammy.
Though the Reserve Bank of India is harping on extension of more credit facilities for the people, banks are extending less credit facilities in the State, for which Credit Deposit Ratio is on sharp decline.
Take for example, on 31 December, 2020, CD Ratio was 59.89 Percent, which has gone down to 56.45 Percent by 31 March, 2021.
According to Benchmark is 60 Percent CD Ratio to be maintained by the Banks, where as bankers are not adhering to the Benchmark of CD Ratio.
So banks are taking away more money from the State as Deposits, while Credit is falling adversely.
An comparison of Deposit and Credit between 31 December, 2020 an 31 March, 202, reveals that banks have mobilized nearly Rs.21,000 Crore of deposit during these three months, while these financial institutions have sanctioned hardly Rs.10, 000 Crore during these months. All the sanctioned amount has not been disbursed, officials admit.
While as on 31 December, 2020, total deposit was Rs.3,59,806.40 Crore with the banks, it went up to Rs.3,80,799.48 Crore by 31 March, 2021.
However, total advance sanctioned and utilized in the State was Rs.1,94,745.21 Crore by 31 December, 2020 and it was Rs.2,04,932.27 Crore by 31 March, 2021.
CD Ratio of Rural Branches is 68.27 Percent, while CD Ratio in Semi Urban Branches are 44.06 Percent and in Urban Branches it is 51.21 Percent.
While in State Level Banker's Coordination Committee (SLBC) Meeting CD Ratio issue is discussed at length, however, situation is worsening day by day and bankers are not adhering the Benchmark, resulting much less funds are flowing to the State, which needs more money flow.
CD Ratio comparison of Fiscal 2019-20 and 2020-21 reveals that as on 31 March 2020 was 60.41 Percent, which has gone down to 56.45 Percent.
During 2020-21 total deposit rose by Rs.31,823.56 Crore, where as total advances rose by only Rs.4,12.25 Crore.
Reserve Bank of India (RBI) had conducted a survey regarding Low CD Ratio of 9 districts having below 40 Percent, the CD Ration was recomputed by taking data from banks which had advance sanctioned outside the state but utilized within the State.
As per the recomputation, two districts Angul and Sambalpur have now CD ratio above 40 Percent and Six districts were close to 38 to 40 Percent.
Those are Deogarh, Jagatsinghpur, Keonjhar, Malkangiri, Mayurbhanj and Puri). Only 1 district ,i.e, Gajapati will remain below 40 Percent.
Now the State Government is needed to take serious note of the CD Ratio as due to Covid-19 Pandemic economic situation has worsened and funds flow from banks are more needed.