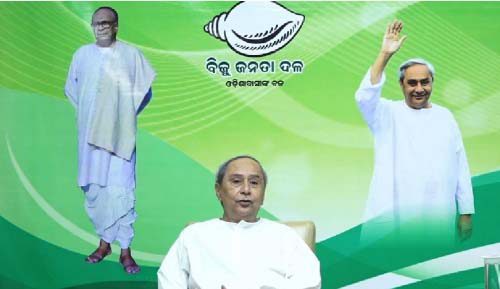 Bhubaneswar: Chief Minister Naveen Patnaik on Friday said politics is just a medium to serve the people.
Addressing the Zilla Parishad Chairpersons, Vice-Chairpersons and Corporators on digital mode on the concluding day of the two-day workshop here, the BJD President said politics is played during elections to Panchayats and Urban Local Bodies (ULBs). However, after the election is over, all should work unitedly for the people, he said.
As a regional party, BJD has always given priority to the interest and dignity of the State and will continue to do so in future, said Naveen.
Stating that BJD has remained with the people in their sorrow and joy, he appealed to the party leaders and workers to reach out to the people following this principle and make the Jana Sampark Padayatra a success across the State with the blessings of the people.
Party Organisational Secretary Pranab Prakash Das appealed to the party activists to apprise people in every hook and corner of the State how the State is marching ahead due to the strong leadership and transparent administration.
Naveen Patnaik's vision and ideology have helped the party win five times in a row, said Industries Minister Pratap Deb. He appealed to party activists to work hard to win for the sixth time.
Senior BJD leader Sanjay Kumar Dasburma highlighted the negligence of the Central Government in various sectors and said the party will continue its fight against such injustice.
Finance Minister Niranjan Pujari said that the State is making progress due to better financial management. He said the State Budget has now increased to Rs two lakh crore from Rs 11.5 crore in 2000.
Rural Development Minister Pritiranjan Ghadai said the Government had given priority to communication in implementing various schemes. The budgetary allocation for the construction of roads has increased from Rs 298 crore to Rs 17,424 crore.
Ghadai appealed to party leaders to apprise the people about such developmental activities.
Senior Vice President Debi Prasad Mishra asked party cadres to explain to people during the padayatra how the Government led by Naveen Patnaik is working for the welfare of the people of Odisha.