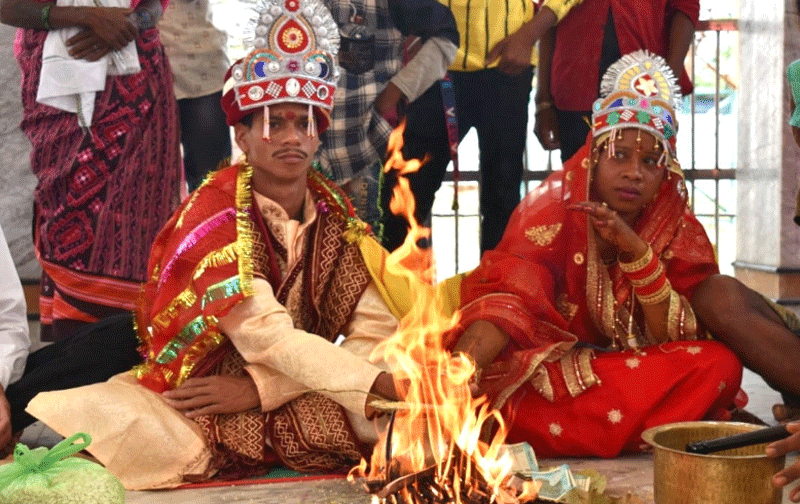 Bhawanipatna: The Reserve Police Ground here was on Friday decorated with colourful tents, flowers and food stalls for the wedding of two former ultras. The Kalahandi District Police played host to the marriage of Ramdas (29) and Kalamdei (25) who were both associated with the Maoists group active in Chhattisgarh and Odisha.
DIG of Police (SWR) Koraput Rajesh Pandit graced the ceremony as chief guest. Kalahandi SP Dr. Saravana Vivek M, CRPF 64th Bn Commandant Biblab Sarkar and other senior Police officers of Kalahandi district were among the guests.
At the age of 19, Kalamdei, the eldest daughter in a family of seven, was allegedly abducted from her village to join the ultras. Unable to align herself with their ideologies, she surrendered herself to the Kalahandi district police on January 5, 2016. She received Rs. 2.98 lakh as per the State government's Surrender and Rehabilitation policy.
Kesab Veladi alias Ramdas, a native of Bijapur district in Chhattisgarh, had an association of ten years with the Maoists groups, having spent maximum time in the forests of Odisha, before surrendering to the police on February 18, 2020. He was given Rs 3.98 lakh as per the Rehabilitation policy.
Recently, when Ramdas' family visited Kalahandi for his father's eye operation, they met Kalamdei's family and both the families finalized the alliance.
The initiative was taken by Kalahandi SP under the guidance of DIG of Police (SWR) Koraput.
Their marriage between Ramdas and Kalamdei Majhi was solemnized today by Kalahandi police and a grand feast was organized by the police at the temple premises where family members of the bride and bridegroom participated along with police and media persons.
On the occasion, the police appealed to other members of the Left Wing Extremists to shun the path of violence and take benefit of the Government's Surrender and Rehabilitation policy and join the mainstream of the society.