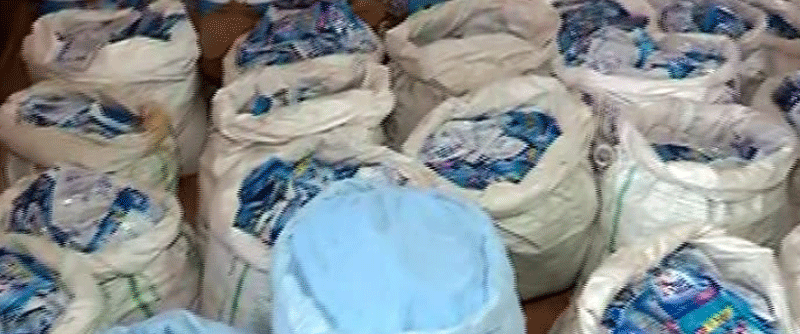 Cuttack: A fake detergent manufacturing unit was busted at Brahmanpada under Tangi Police Station in Cuttack district during an investigation launched after a vehicle carrying detergent wrappers of a premium brand was intercepted by the Commissionerate Police.
Acting on a tip off regarding the transportation of huge quantities of Surf Excel Packaging wrapper rolls and duplicate Surf Excel powder in an auto-rickshaw, Malgodown Police had intercepted and searched the vehicle on the evening of April 17, said Cuttack DCP Prateek Singh.
During the search, 24 gunny packets each containing two rolls of Surf Excel Packaging wrapper and two packets containing 150 Surf Excel Powder packets of 80 Grams each were detected. It was ascertained the transporter was transporting the above material to his detergent manufacturing unit at Brahamanpada.
Further investigation revealed that accused after illegally manufacturing low-grade detergent powders was packaging the same illegally in Surf Excel wrappers along with his associates at Umar village under Mahanga Police Station and at Khandeita village under Sadar Police Station. Thereafter they all were selling the products in the market with huge profit.
During the search of the manufacturing unit as well as packaging units huge number of raw materials, different types of chemicals, mixture machine, dryer machine, 1800 kgs of loose finished products, 1540 kgs of packaged finished products, used Surf Excel wrappers, two stitching machine, two weighing machine, two packaging machines and two goods carrying auto rickshaws were seized.
The 47-year-old prime accused has been arrested while further investigation is on to apprehend the other accused persons. Further investigation is on to ascertain the details of the illicit trade including source of procurement of Surf Excel Packaging wrapper rolls and the marketing areas, the DCP sources said.