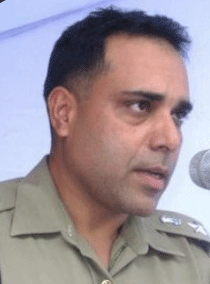 Balasore: After a gap of one and half years, the Chandipur Integrated Testing Range (ITR) of DRDO again came to limelight for alleged leakage of its vital information to Pakistan.  
The Balasore police on Friday arrested a senior technical official of DRDO's Integrated Testing Range (ITR), Chandipur, on charge of leaking classified information to Pakistan, said IGP Eastern Range, Himanshu Kumar Lal.
"We have arrested a senior technical officer of ITR Chandipur for passing sensitive information to one foreign agent working in Pakistan," Shri Lal said while speaking to media persons here.
Like the 2021 case, the ITR official was allegedly honey trapped by some female operatives from Pakistan. They were sending some video to the official through whatsapp and in lieu of that, he (the ITR official) had shared sensitive defence information to them, said IGP Shri Lal.
Following the 2021 case related to leakage of secret information of Pakistan, the police and central agencies have been keeping a close watch on certain individuals following the arrest of five ITR employees for allegedly sharing sensitive information, said Balasore SP Sagarika Nath.
"The joint investigation by police and central agencies is underway. After we got concrete information about transmission of sensitive information, we detained a few people and interrogated them," said Shrimati Nath.
The SP further said the police got full information about transmission of images as well as sensitive communication by the arrested person. The police also seized the mobile phone of the accused officer.
The police will sensitise the ITR Chandipur officials about the modus of operandi of the foreign agents, she added.
The Odisha police will now take steps to stop the foreign agents from getting vital information from the defence establishment, said IGP Shri Lal.
Notably, the police in September, 2021 had arrested five contractual employees of the Defence Research and Development Organisation (DRDO) unit at Chandipur, on charges of sharing classified defence information with unknown foreign agents, suspected to be from Pakistan.