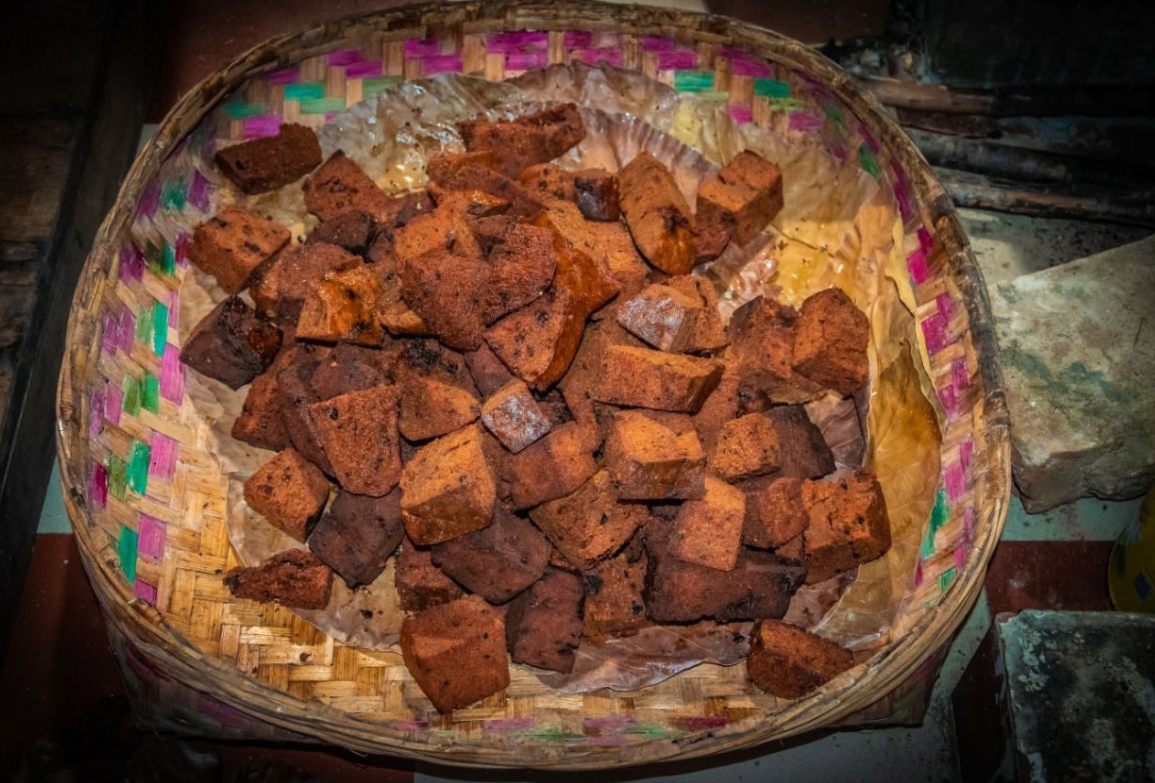 Puri: With one day left for the Bahuda Jatra, baking the special Poda Pitha is underway here at a sacred place.
The Sevayats (servitors) are busy preparing the sweet and favourite dish of Lord Jagannath, which will be served to the Lord tomorrow. The sweet dish is made from milk, cheddar, wheat flour, jaggery, cloves, ghee, and cardamom. The dough is then cut and fried in ghee.
Chief Administrator of Shree Jagannath Temple Administration (SJTA), Dr Krishan Kumar shared beautiful pictures of the Poda Pitha preparation through his twitter handle this morning.
"Poda Pitha Getting ready!!! As per parampara (tradition), Poda Pitha is offered to Chaturdhamurti on #BahudaJatra at Mausima Mandir; situated almost in the middle of Bada Danda. Preparations start from Hera Panchami day by using flour, desi ghee, raisins, cloves, cardamom etc," Dr Kumar tweeted.
The deity is offered the Poda Pitha on his chariot – Nandighosa – during a brief halt at Mausi Maa temple during Bahuda Jatra (return journey) to Jagannath Temple. After being served to Jagannath, the sweet is distributed among the devotees and Sevayats.
According to the mythology, a river called Malini was flowing between the Srimandir and the Shree Gundicha Temple in the pilgrim city.
As a result, six chariots were built. The sibling deities rode in three large chariots from the Shree Jagannath temple to the Mausi Maa Temple, from where they were shifted to a boat and then taken to the Shree Gundicha Temple in the other three chariots.
Due to the high water level in the river, the servitors faced problems while crossing it. The deities' aunt understood the hardships of the servitors and was instrumental in drying up the river for the smooth conduct of the festival.
To express his gratitude, Lord Jagannath then promised to make a halt near the Mausi Maa temple and accept Poda Pitha during Bahuda Jatra.
The sevayats will perform the remaining rituals of the Lords after the chariots arrive at the Jagannath temple here in the afternoon.
Meanwhile, preparedness is on full swing for smooth conduct of the Bahuda Jatra tomorrow.
The SJTA and Puri District Administration has made all elaborate arrangements for the return journey of Lord Jagannath and his siblings.
Here is the schedule of various rituals to be performed during Bahuda Jatra.
Mangal Alati- 4 am
Mailam Lagi- 4.15 am
Tadapa Lagi- 4.30 am
Rosa Homa- 4.30 am
Abakasha Niti- 5 am
Surjya Puja- 5.15 am
Dwarapala Puja- 5.30 am
Besha Sesha- 5.30 am
Gopala Ballava and Sakala Dhupa (Khechudi Bhoga)- 5.45 am-6.45 am
Senapata Lagi- 7 am-11.30 am
Mangalarpana- 11.45 am
Bahuda Pahandi- 12 pm-2.30 pm
Besha Sesha- 1 pm-2.30 pm
Chherapanhara- 2.30 pm -3.30 pm
Charamala Phita and Ghoda Lagi- 3 pm -4 pm
Rathatana (pulling of chariots)- 4 pm.