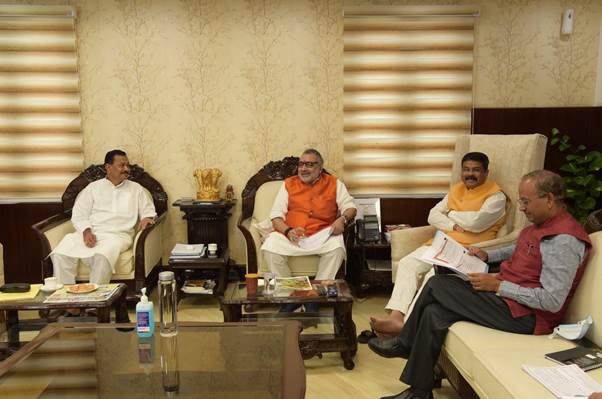 New Delhi: Union Government and Odisha Government together have set a target to provide houses to the more than 8 lakh beneficiaries in Odisha.
Union Minister of Rural Development and Panchayati Raj, Giriraj Singh has said that in this regard the tribal and backward districts should be accorded priority.
Mr.Singh said after a meeting with Odisha's Minister of Panchayati Raj & Drinking Water, Forest & Environment and Information & Public Relations, Pradip Kumar Amat here on the issue of to discuss implementation of the Pradhan Mantri Awas Yojana (Gramin) in the state.
Union Minister of Education and Skill Development & Entrepreneurship, Dharmendra Pradhan was present during the meeting.
Union Rural Development Secretary N N Sinha and Odisha Panchayati Raj & Drinking Water Principal Secretary Ashok Kumar Meena was present.
Union Minister Mr.Singh raised concerns over the several issues flagged by the Central team of the Rural Development Ministry that visited the state to verify and review the status of PMAY (G) scheme in the state.
The Union Rural Development Minister called for effective monitoring of the PMAY-G scheme in the state, social audit of the Panchayats to be undertaken.
He said there is need of effective convergence of the scheme with Swachh Bharat Mission for construction of toilets, Saubhagya scheme for power connection to every household, Har Ghar Nal Se Jal for tapped water and Pradhan Mantri Ujjwala Yojana for LPG/Gas connection.
It was agreed in the meeting that anomalies pointed out by the Central Team will be resolved.
Later Mr.Amat said the State Government has dismissed 22 officials from services while 44 officers have been suspended and actions have been taken against other 268 employees.
The Odisha government doesn't tolerate corruption and would take stringent action against corrupt officials, he assured.
Moreover, both Union and State Governments are working towards providing houses to the genuine poor beneficiaries in a transparent manner, added Mr.Amat.