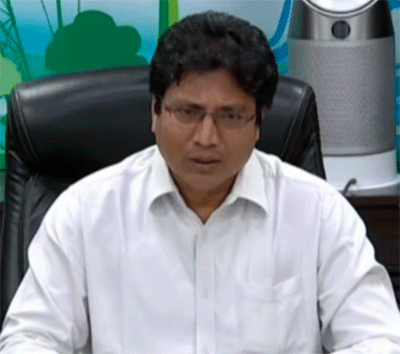 New Delhi: The Rs 19,500 crore Performance Linked Incentives (PLI) scheme of Government of India would bring in a direct investment of around Rs 94,000 crore in New & Renewable Energy Sector in the country.

Pradip Kumar Das, Chairman and Managing Director (CMD) of Indian Renewable Energy Development Authority (IREDA) informed this during a recent debate telecasted on Sansad TV.
IREDA Chief Mr.Das is in the forefront scaling up production of New & Renewable Energy in the Country.
The Union Cabinet on Wednesday had approved the PLI scheme to incentivize manufacturing of domestic solar cell modules to reduce the industry's reliance on China-made panels.
This would bring in a direct investment of around Rs 94,000 crore, directly employ about 1,95,000 and indirectly around 7,80,000 persons. It would save India close to Rs 1.37 lakh crore in imports, he said.
The Government of India has approved the Rs 19,500 crore scheme in the second tranche. In the first tranche, Rs 4,500-crore was cleared in November 2021, said Das.
India has committed, as part of its international climate commitments, to a target of installing 500 GW of electricity from non-fossil fuel-based sources by 2030 and this translates to 280 GW from solar electricity alone, he pointed.
Presently, India is importing the raw material for solar panels from other countries, especially from one country. And, during the Covid-19 pandemic period, the entire supply chain has been disturbed, which affected our target to produce 500 GW by 2023, said the chairman of IREDA.
"Besides, we are now celebrating Azadi Ka Amrut Mahotsav and Prime Minister Narendra Modi ji himself promoting renewable energy and solar energy. He has given much emphasis on this sector at international forums," IREDA CMD Mr.Das stated.
IREDA Chief Mr.Das further said, "We have to manufacture the solar panel raw materials here in India to achieve the 2030 target."
Through competitive bidding, the tranche-I fund has been awarded to support generation of 7 to 8 GW of solar energy while another 65GW solar energy can be generated through funding of Rs 19,500 crore in the second tranche, the CMD IREDA said.
With the completion of the second tranche period, India will be able to generate 70 to 80 GW of solar energy.
"We have IIT like institutions, technical experts and private players who are already producing such raw materials. To promote the local players, Excise duty has been imposed on import of solar PV module raw materials since April 2022. Following which, the local manufacturing in cells has been doubled and PV modules increased by 2.5 times," IREDA CMD Mr.Das said.
Bidders for projects would be given performance-linked incentives (PLI) to set up and run manufacturing facilities that will span the entire production cycle of modules from making the polysilicon cells, ingots, wafers and panels to assembling modules that are used to produce electricity.
The PLI will be disbursed to firms after they set up their manufacturing units and the money disbursed over five years.
Officials from the Ministry of New and Renewable Energy (MNRE), the nodal body charged with administering the program, estimate manufacturing capacity worth 65,000 MW of fully and partially integrated, solar PV modules to be installed over five years.