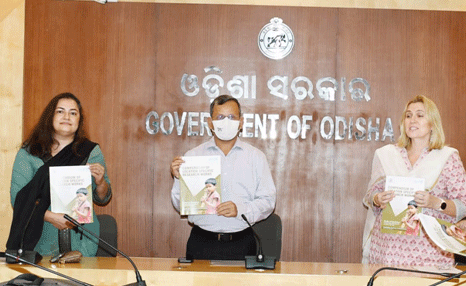 Bhubaneswar: Location Specific Researches were brought to focus by Government with launching of the First Volume of the Compendium on Location Specific Research Works.
Chief Secretary S C Mahapatra opened the First Volume and asked the CoE to take up more number of such community centric studies in different areas of the State for assessing felt-need of the people and bridging the critical gaps at field level.
Mr.Mahapatra advised to document the successful development models emerging from such studies. Such models would be useful guide books for the trainee officers and could replicated with local customization for achieving targeted developmental outcomes.
Director General, Gopabandhu Academy of Administration (GAA) Ranjana Chopra said that the Centre of Excellence (CoE) was made operational from 2021 at GAA in collaboration with UNICEF along the line of the State Training Policy.  She said, "CoE operated with technical support of Unicef". The studies undertaken by CoE were need and demand based. CoE could add value to developmental administration through such community based studies.
UNICEF Chief Monica Nielsen said that the type and functioning of the CoE at GAA with location specific approach was one of its kind in the entire country. She also expressed UNICEF's willingness to continue its collaboration with CoE.
Director, CoE, Shashank Grahacharjya appraised that the compendium contained around 19 community and people based impact studies on many important issues.
Those include functioning of Adarsha Vidyalaya, impact of covid on women handloom weavers, early detection and care of sickle cell, fishermen communities in coastal belt, children with special intellectual needs, operation of Swadhar Gruha, care for anemia among adolescent girls, paddy procurement, reduction of malnutrition, control of wild life hunting, social utility of cyclone shelters, socio-economic and livelihood interventions in tribal communities etc.
The volume consisted of the original community Team based field studies conducted by Shashank Grahacharjya, Padmaja Pati, Soumya Banarjee, Rashimta Behera and Amartya Krishna Roy.