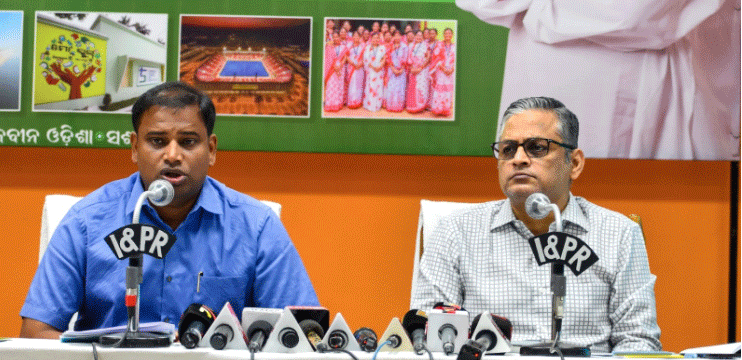 Bhubaneswar: With an aim to attract IT/ESDM companies, the State Government has planned to create 2 million square feet of ready built space with plug and play facility for such companies.
This will not only attract the IT companies but also provide employment to the youth, said Electronics and Information Technology Minister Tusharkanti Behera here on Saturday.
Minister Shri Behera and Principal Secretary, E&IT, Manoj Kumar Mishra briefed the press about the Budget 2023-24 in respect of the Department here today.
Shri Behera said that the Chief Minister firmly believes that the future of Odisha is as a knowledge-based economy, so there has been a major emphasis on bringing the Electronics and IT companies to the State.
The Government has approved 4 new policies, namely IT/ITeS Policy, Electronics Policy, Data Centre Policy and BPO Policy. These policies are among the best in the country and expected to attract significant investment, he said.
The Government has taken a significant decision to reduce lease rentals to Rs. 20 per square feet for IT companies in the State-owned IT towers which has made Odisha a preferred IT destination.
In the last few months, the government has been able to realize the investment intents signed during the Make in Odisha Conclave. IBM, Deloitte, Happiest Minds, Incture, Innovare tech, Opex America, Yovant and many other IT companies have already opened their centres in Odisha, which is likely to generate an employment of over 12,500.
Many other companies will also soon be starting their operations in the State. These initiatives are likely to generate an estimated additional employment of 24,000, he pointed out.
Allocation of Rs. 356 crore has been made for the E&IT Department in the Annual Budget for the year 2023-24.
The Government will initiate an ambitious O-CHIP Programme (Odisha Chip Programme) with an investment of Rs. 30 crores to create an ecosystem in the field of Electronics design and manufacturing.
It will be a Government supported CoE (Centre of Excellence) that will have top rated industry association and academicians from top research under one umbrella, which will create more than 5000 high end jobs in near future.
All government officials will also be provided AI training for capacity building. Puri-Bhubaneswar-Cuttack has been envisioned as India's first AI cluster. An undersea cable landing station at Puri is being planned to make data reliable and affordable, said Principal Secretary Mishra.
This Landing Station will invigorate the Data Centre, entertainment, telecom and FinTech markets. Odisha thus can become the Digital hub for East, Central and North East India, he said.
Basic digital infrastructure has already been created in 133 blocks of the State. The State Government has now made a provision of Rs.26.6 crore for internet leased line at the Block level which will considerably improve digital accessibility for citizens in rural areas.
Mishra also informed that 1 Gbps high-bandwidth will also be provided to all GP's for facilitating VC at GP level nearby Government institutions such as schools and hospitals.
This will enable enhanced delivery of content and development of smart school programs. It will considerably reduce rural and urban disparity in broadband connectivity, he added.
To provide mobile networks in areas where there are no telecom services, the Government has initiated giving free land for mobile towers and the State is working closely with all mobile operators to ensure that mobile coverage is available everywhere in the State by March 2024.
Today, Odisha is the only State which has an enterprise platform like OSWAS, which has been allocated Rs 19.75 crores under the budget, for efficient use of technology to improve governance.
To ensure better integrity of government data, CSC will be strengthened and an allocation of Rs. 20 crores has been made for it. The Government has also planned to increase Mo Seba Kendras to 10,000 this year by opening GP offices.