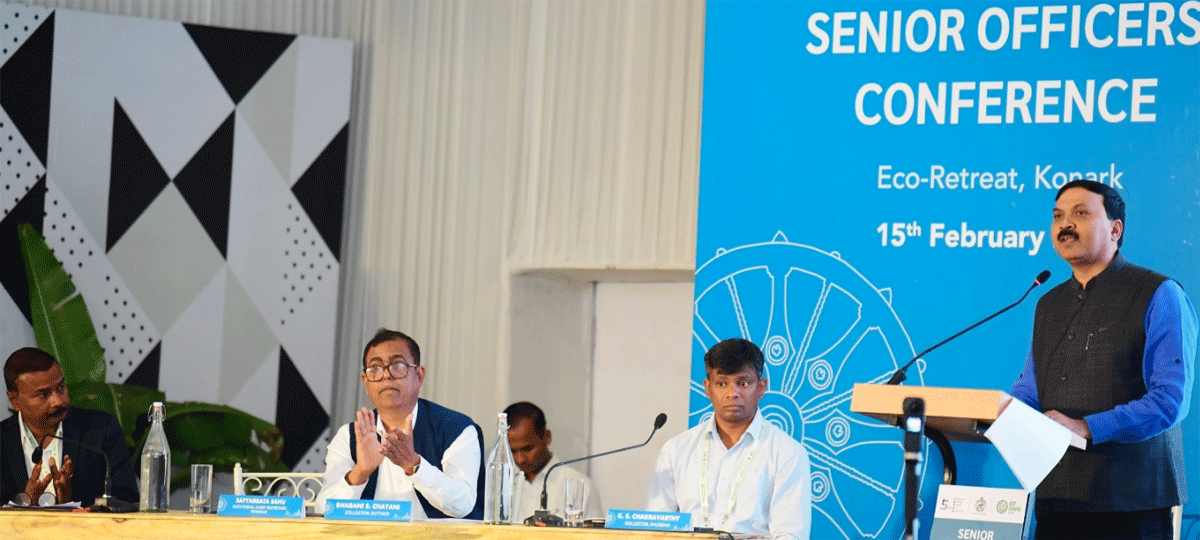 Konark: Additional Chief Secretary, Revenue & Disaster Management, Satyabrata Sahu said that after implementation of 5T, many technological interventions have been initiated to reduce physical interface between Citizens and Government offices. Mandatory timeline in cases of land record services has been drastically reduced through process re-engineering.
Shri Sahu was speaking in the Senior Officers' Conference held on 15 February 2023 at Eco-Resort, Konark.
ACS Department of Revenue and DM along with three District Collectors of Cuttack, Khurda & Boudh expounded upon People friendly Revenue Administration. Revenue & DM Department provides an array of services, which are completely online except in cases of statutory requirement.
Shri Sahu said that sale transaction report flows automatically to Tahasil Office to institute mutation case and Registered Sale deed is sent to the doorstep of Citizens through Speed Post. Record number of Record Of Right (RoR)s have been corrected within one day and seven day of Registration of sale/purchase transaction in last few years.
In 2022, approximately, two lakh RoRs have been corrected & sent to Citizen either through speed post or Rajaswa Rath. In six components of Digital India Land Records Modernization Program, 20 districts of Odisha among 75 districts of India have attained more than 99% of its objectives, for which 20 districts will be conferred platinum award by Union Government.
Virtual Courts have been started recently in 80 Tahasils & approximately, 3,000 cases have been disposed after hearing through virtual platform. Department is expediting Hi-Tech Survey for speedy & accurate land record services. Hi-Tech Survey has been completed in Deogarh district and it is being expedited in Sonepur & Sundargarh district. In order to mitigate the issues of skilled manpower, Department is working to create more Licensed Surveyors through Skill Development & Technical Education training Department.
Department has taken steps to deliver Miscellaneous & Caste certificates free of cost & based on self-declaration. Approximately, 50 lakh Resident & Income certificates have been delivered on the basis of self-declaration after introduction of 5T charter in last 3 years. Mandated timeline has been reduced in Miscellaneous & Caste Certificates through digitization of the process & process re-engineering. Department has instructed all Tahasildars/ Additional Tahasildars to institute 100 mutation cases for column 2 correction in RoR & 100 partition cases based on mutual consent in every month. Revenue Department is also a facilitator of developmental projects. Approximately, 6,50,000 families have been sanctioned house site through Vasundhara Scheme & 4,50,000 families have obtained Record of Rights through Forest Rights Act.
Adequate land is allocated expeditiously to educational institutions, health institutions, places of religious or cultural significance. Through District Revenue Review & review of land acquisition for linear projects, linear projects such as National highway, Railways & Irrigation network are fast-tracked. RFCTLARR Act has been amended to streamline land acquisition without compromising the interests of the displaced families.
To spur industrial activities, a policy has been put in place to either remit or obviate Stamp Duty & Registration Fees, when land is registered in favour of MSME, IT or ITES Units. To sustain ecology, approximately 35,000 Acres of land have been reserved for Compensatory Afforestation.
In order to accommodate the growing need of land for developmental purpose, removal of encroachment & optimal usage of land belonging to various Government Departments is the way forward. Hon'ble Chief Minister has spelled out two guiding principles for the Department.
He said that one should believe in the goodness of the people than ingenuity of our processes, Coming to Government Offices should be a choice rather than a compulsion. Based on these two guiding principles, Department has undertaken many e-Governance initiatives & process re-engineering to reduce physical interface & issue services based on self declaration.
To further reduce physical interface between people & Govt. Offices, all the districts have been instructed to start virtual courts in all Tahasils by March 2023. All the Tahasils have been instructed to hold regular camp court in each Tahasil preferably 2-3 days a week.
In registration offices, transformative initiative such as smart surveillance system will be introduced for more transparency & removal of intermediaries. Similarly, online slot booking system will be commissioned in registration offices for hassle-free registration to reduce waiting time of the applicant & crowding at the offices.
More registration offices, RI Circles & more number of villages shall be opened, wherever required Apart from these, in last OLRMS meeting chaired by Chief Secretary, it was decided to complete Hi-Tech Survey in all district for accurate & speedy land record services at an approximate cost of Rs. 300 Crore.
Similarly, there is proposal of extending OSWAS to all districts, sub-divisions & Tahasils. In DILRMP, there is proposal of linking Aadhaar with RoR with an approximate cost of Rs 12.5 Crore for effective & efficacious data driven policy making & identification of intended beneficiaries by Govt in various schemes & projects.
Digitization of relevant records of Revenue Offices starting with Board of Revenue is in the pipeline. Digitisation of records of Board of Revenue is in progress. The goal of the Department is to deliver services to people in hassle free manner with bare minimum physical interface, said ACS Shri Sahu.