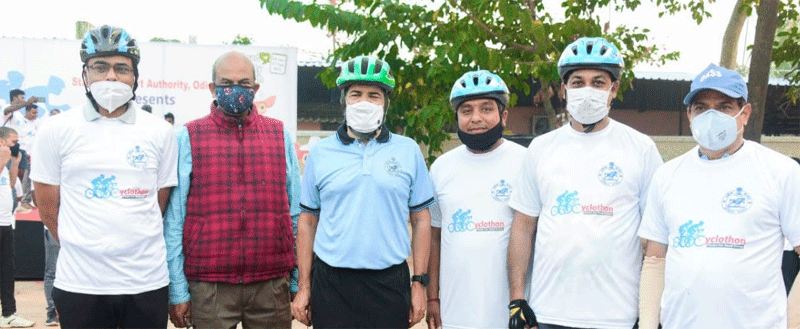 Bhubaneswar: In order to create awareness among the citizens in Capital City "Pedal For Road Safety" was organized, which received wide support from the people at large.
With an Avid Cyclist and Transport Commissioner Sanjeeb Panda at the helm, the  State Level Cyclothon was organized in the Capital City on 22 January for generation of awareness on Road Safety.
This Program was organized as part of the ongoing 'National Road Safety Month'.
Sports and Youth Services Minister Tusharkanti Behera flagged off the Cyclothon at 6 AM in the morning from the premises of Odisha State Road Transport Corporation(OSRTC) Headquarters, where CMD OSRTC Arun Bothra extended all out support for the massive effort to generate awareness.
Cyclothan saw participation of hundreds of participants, which covered major junctions of the Capital City during the morning hours.
Awareness against traffic violations like drunken driving, over-speeding, triple riding, wrong side driving, riding without helmets, driving using mobile phones and not wearing seat belt and other issues were generated.
Minister Mr.Behera said that safety should be top priority for everyone in all spheres of life. People should not hurry while driving and obey road etiquettes to prevent accidents.
Bhubaneswar Central Lawmaker, Ananta Narayan Jena, Cine Actors, Papu Pom Pom and Sabhyasachi Mishra graced the occasion.
Pradeep Kumar Mohanty, Regional Transport Officer(RTO) Bhubaneswar-I coordinated the entire efforts, where RTO Bhubaneswar-II BN Adhikari, Deputy Commissioner Transport Sanjay Kumar Biswal, Officials of Bhubaneswar Traffic and more than 500 Cyclists participated in the event.
In fact in order to generate awareness every year, the Ministry of Road Transport and Highways (MoRTH) observes the National Road Safety Week in the second week of January.
MoRTH however favored the idea to observe a Month Long Awareness Program from 18 January to 17 February with wider participation in order to ensure a more effective awareness on the rising number of casualty due to accidents on the road across the country.