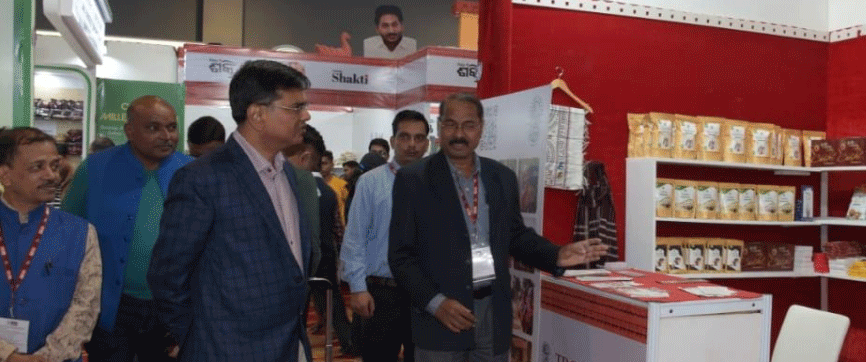 New Delhi: The Odisha Pavilion in IITF-2022 with impressive showcasing of Odisha products in different stalls has attracted a huge number of visitors and it has turned into a selfie zone, said Sanjay Kumar Singh, Principal Secretary Principal Secretary Information & Public Relations.
He advised the officials to make use of this year's experience to improve the pavilion's get up in coming years. Officials present there briefed the Principal Secretary on the footfalls of visitors, sales from stalls and steps taken to give wide publicity for Odisha Divas.

Principal Secretary Agriculture and Farmers Empowerment Arabinda Padhee and Ace Mandarin Usha Padhee visited the pavilion earlier today was in all praise for the efforts put in by officials to make it so impressive.

Dr.Padhee also showered praises on the organizers for presenting such an extraordinary Odisha pavilion in IITF.
He expressed high appreciation for steps taken to publicize Koraput Coffee, Millet and hockey through the stalls in the pavilion.
Apart from taking selfies with Milee, the mascot for Odisha Millet Mission, he sought information from the officials on steps taken to popularize Sambalpuri cloth.

Notably, a huge rush in the Odisha pavilion has been noticed ever since the trade fair has been thrown open to the public. Thousands of visitors are found thronging the pavilion and buying products from different stalls.


Keeping in view the huge rush in and around Odisha Pavilion, Delhi Police have made special arrangements there