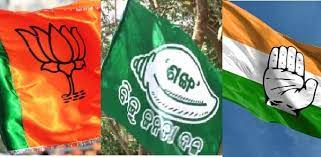 Bargarh: After completion of the Dhamnagar by-poll, all three major political parties in the State, BJD, BJP and Congress have geared up for the by-election to Padmapur Assembly seat in Bargarh district.
After losing the Dhamnagar seat, the Governing BJD is in no mood to lose the Padmapur seat. The party is all set to utilise its full force to retain the seat. The party will select a suitable candidate after discussing with all leaders in the district.
As the BJD has won Bijepur bypoll twice in the same Bargarh district, it is optimistic that it will rewin the Padmapur seat.
Demised tribal leader and sitting MLA Bijay Ranjan Singh Bariha's widow Tilottama Singh Bariha is hoping for a party ticket to contest the by-election.
Speaking to reporters, Tilottama said, "I am hopeful of getting a ticket. I hope the Chief Minister will shower his blessings and give me a ticket for the bypoll and enable me to fulfill the dreams of my husband."
Nupada Assistant Collector Mahendra Badhei is in the race to get a BJD ticket for the by-poll.
"Our party President will select suitable candidates for the by-poll and the candidate will be selected as per our process. Whoever will be the candidate, we will extend our full support," said senior BJD leader Prasanna Acharya.
After winning the Dhamnagar by-poll with a good margin, Opposition BJP is now eying to snap the Padmapur Assembly seat from BJD.
The saffron party, which had lost the Padmapur seat with 5734 votes to the Governing party, now geared up to adopt the strategy of Dhamnagar to defeat the BJD in the by-poll scheduled for December 5.
BJP State President Samir Mohanty said the BJP has emerged as a strong alternative to the ruling BJD. The party will adopt the same strategy in the byelection to Padampur Assembly constituency, Mohanty said.
The BJP is likely to renominate senior party leader Pradeep Purohit for the seat. Mr.Purohit had won the seat in 2014 and lost to BJD's Bijaya Ranjan Singh Bariha with 5,734 votes in the last election held in 2019.
BJP has a strong hold in the Assembly segment. So, the party leadership is hoping that the Dhamnagar result will affect the by-poll in western Odisha.
Mr.Purohit said BJP's central leadership will decide who will contest from BJP in the by-poll. Whoever will be the candidate, BJP will certainly win the seat, claimed the ex-BJP MLA.
On the other hand, the Congress has also started the process for candidate selection. The local Congress leaders have selected a few candidates' names for the by-poll. They will submit it to the Odisha Pradesh Congress Committee (OPCC) for their consideration, said Congress lawmaker Santosh Singh Saluja.