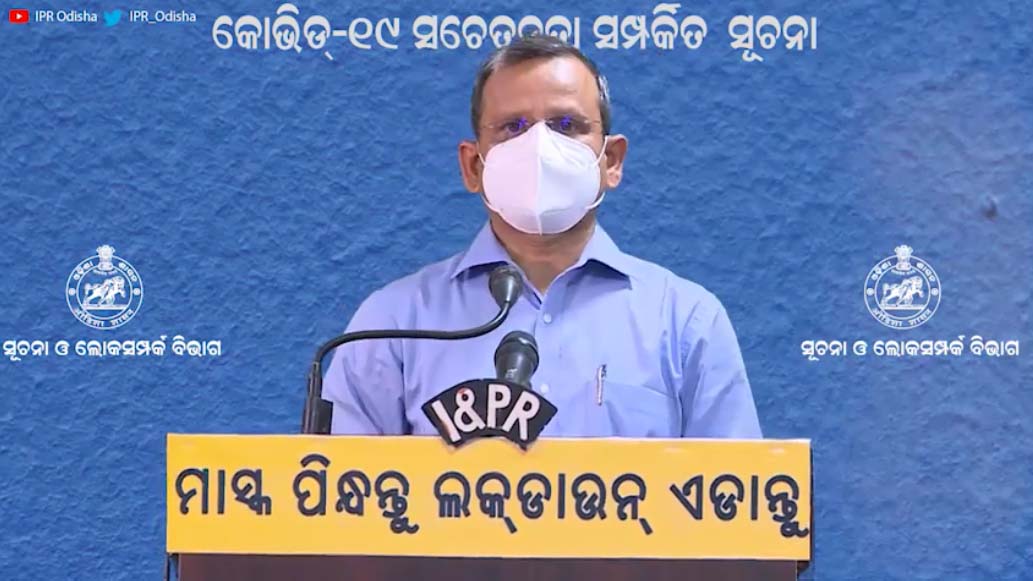 Bhubaneswar: As there is no significant improvement in Covid-19 scenarios in 10 coastal districts, the State Government on Thursday announced extension of the partial lockdown till 1 August ,  where schools, colleges, malls, cinema halls and places of worship will continue to remain closed.
Briefing media persons on a virtual platform, Chief Secretary Suresh Chandra Mahapatra said, "The test positivity rate (TPR) of Odisha, which was 5 per cent on 1July, now comes down below 3 percent. The daily infection cases have come down to 2000 from 3000 reported earlier in this month. It means the situation has not been fully improved."
So, the prevailing categorization of districts (category A &B) will continue in the State and partial lockdown will also to continue in the State till August 1, Mahapatra said.
As many as 20 districts (category A) with low infection rate will enjoy more relaxations compared to the rest 10 districts (category B) in the graded unlocking from Friday.
The category A districts are– Angul, Dhenkanal, Keonjhar, Sundargarh, Jharsuguda, Bargarh, Sambalpur, Deogarh, Kalahandi, Balangir, Nuapada, Sonepur, Ganjam, Gajapati, Kandhamal, Boudh, Koraput, Nabarangpur, Malkangiri and Rayagada
Khurda, of which Bhubaneswar is a part, Cuttack, Puri, Balasore, Bhadrak, Jagatsinghpur, Jajpur, Kendrapada, Mayurbhanj and Nayagarh are in category B.
While shops in 20 Category A district will remain open from 6 am to 8 pm, in Category B districts (coastal districts) the shops will open from 6 am to 5 pm, informed Mr.Mahapatra.
Similarly, the weekend shutdowns will continue in Category B districts while there will be no weekend shutdown in the remaining 10 districts. However, night curfew will be in place all across the State, he stated.
Bus (only with seating capacity), taxi and auto rickshaw services will resume across the State from tomorrow. However, no bus services will be allowed to Puri till July 25 in view of Ratha Jatra. Moreover, the government has not permitted inter-state bus operation, the Chief Secretary stated.
Gyms, parlors, spas and salons will reopen all across the State from tomorrow in adherence to Covid-19 protocols, while, schools, cinema halls, parks, exhibitions, jatra and malls will remain closed across the State, he pointed out.
Marriage ceremony and funeral restrictions will continue to remain in force while bars will remain closed. Restaurants will be allowed takeaways only and not eating will be allowed in the premises, said the Chief Secretary.
The ongoing ceiling on maximum attendance of 25 persons in weddings and 20 in funerals and last rites, curbs on community feast, socio-cultural and political gatherings will continue.
The State Government has also allowed outdoor sports events without participation of spectators. Outdoor and indoor film shooting will also continue in all 30 districts of Odisha.
All economical activities including agriculture, fisheries, construction, and industrial activities will continue without any restrictions
Parks, malls, cinema halls, exhibitions, mela, Jatra, education institutions, bars, etc, which was not permitted in the last lockdown guidelines will continue to remain prohibited, Mr.Mahapatra further said.
Weekly haat and daily marker will be allowed only in 20 less infected districts with strict adherence to the Covid protocols. However, the daily market and weekly haat will remain closed in 10 coastal districts, he added