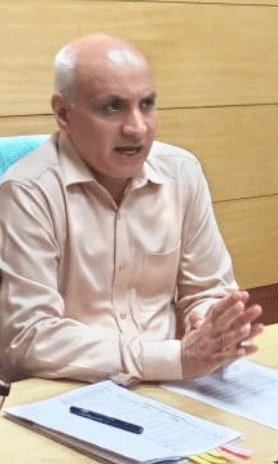 Bhubaneswar: The online registration of farmers to participate in paddy procurement for Kharif season 2021-22 has been started in the State on Thursday. The farmers' registration process will continue till 16 August.
The Food, Supplies and Consumer Welfare Department has made all necessary preparations to ensure smooth registration of the farmers.
The Department has prepared an Operational Guidelines for Kharif 2021-22 and asked all Collectors to follow the same, official sources said.
Principal Secretary Food Supplies and Consumer Welfare Vir Vikram Yadav discussed the modalities with the senior officials of the Department.
All farmers who want to sell his/her paddy to the Government will have to register his/her name on online mode. There will be no renewal of registered farmers. Therefore, all farmers will have to register fresh, the source said.
Farmers will have to give information on their land, bank account, Aadhar, mobile number details while registering. Registration will be done in all 30 districts of Odisha.
The interested farmers can register their names for online registration at the nearest PACS, LAMPCS, WSHG and Pani Panchayats to sell their paddy harvest. All the primary agriculture cooperative society (PACS) has been asked to open held desks to provide necessary assistance to the farmers for registration.
If any farmer gives wrong data, he/she will be deprived from the process and action will be taken against the official responsible for wrong entry, as per the guidelines.
A farmer will have to give the details of land cultivation during the Kharif season and the time period to sell the paddy. The land details will be inspected, if it is not available in the Bhulekh portal of the Revenue department.
If share-croppers want to enroll their names in the online registration process they will have to submit a permission letter from the landlord along with an Aadhar card copy and mobile number of the owner, they said.
Without the concurrence letter of landlord, no sharecropper will be allowed to participate in the paddy procumbent process, he clarified. The final list of registered farmers will be prepared by September 30.
Notably, the procurement process will start from the first week of November and continue till 31 March, 2022 during which farmers can sell their 2021-22 Khariff Crop Season

The rice production in the State is increasing year after year due to strong effort and coordination made by Food Supplies & Consumer Welfare and Agriculture Departments. Since 2017-18, the rice production is constantly increasing in the State of Odisha.
According to official data, the State had produced 33.21 lakh metric ton of rice in the Kharif Marketing Season 2017-18, which was increased to 44.33 lakh MT in 2018-19 and further to 47.78 lakh MT in the next crop year (2019-20).
During the last Kharrif season 2020-21, the State had produced a record amount of 52.35 lakh MT of rice.