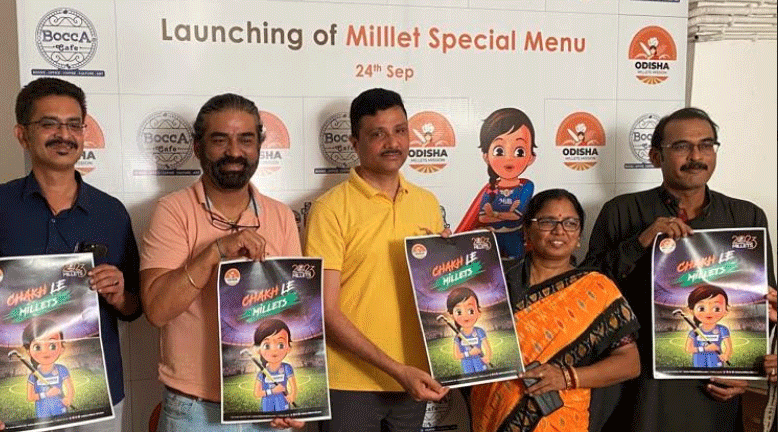 Bhubaneswar: As part of its programme for the promotion of nutrition-rich millets, Agriculture and Farmers' Empowerment Department Principal Secretary Arabinda Kumar Padhee launches millet-based dishes here at a special event at BOCCA Café.
Odisha Millet Mission (OMM) has collaborated with BOCCA Cafe, Bhubaneswar to promote millets as a nutritional alternative amongst the youth and to showcase the many dishes that can be crafted from Bajra, Jowar, Mandia and other millets. The event took place at BOCCA Cafe, Master Canteen, Bhubaneswar.
This first-of-its-kind agricultural initiative to encourage the cultivation of nutrition-rich millets goes beyond bringing the traditional food of Odisha's tribes back on plates.
Dr.Padhee interacted with the Restaurant Association Odisha (RAO) members present there and encouraged them to add millet based dishes in their menu, which they readily accepted.
It answers one of the enduring questions: what can be done to protect and revive the environment as well as provide better income to farmers, particularly those with small farms?
BOCCA worked with OMM and has come out with an exclusive millets-based menu which was launched in the event. The menu was curated by the chefs at BOCCA and experts of Odisha Millets Mission. The idea was to create continental, Mexican, bakery dishes which will give millets a more up market identity, helping the current generation consume it and in the process help the farmers.
The event was graced by Odia celebrity Satyabrata Kuna Tripathy, board members of Restaurant Association Odisha (RAO), owners of Michael's Kitchen, Dawat, Odisha Hotel, Green Chillyz and Prangan (Mango Hotels) and Co-founders of BOCCA Cafe, Sameer Hans and Satyabrata Sanu Ratho. The event ended successfully.
Odisha Millet Mission is a flagship programme of the government of Odisha launched in 2017 to improve nutrition at the household level through the revival of millets in farms and on plates of tribal communities in Odisha.