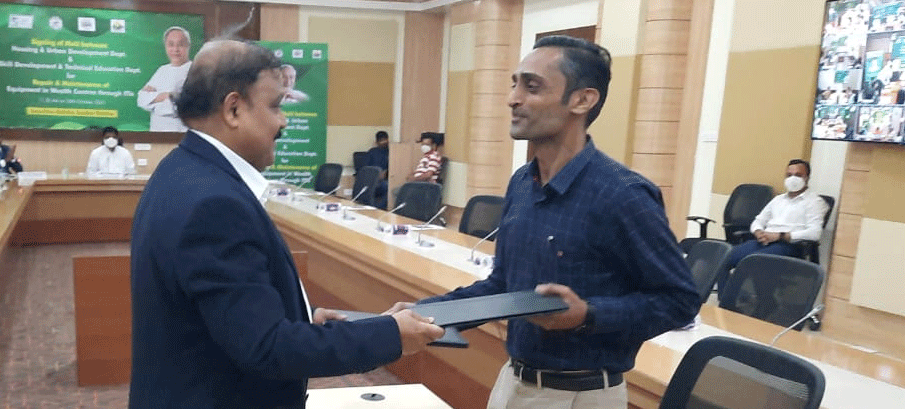 Bhubaneswar: The departments of Housing and Urban Development (H&UD) and Skill Development and Technical Education, have come together for strengthening the Wealth Centres in the ULBs functioning under the Decentralised solid waste management under 5T initiative.

Memorandums of Understanding (MoU) were signed today between the Directorate of Municipal Administration and Directorate of Technical Education and Training (DTET) and between the 114 ULBs and 33 ITIs for repair and maintenance of equipment of Wealth Centres and sanitation Vehicles.
Sangramjit Nayak, Director, Municipal Administration (DMA) and Mission Director (SBM-U) H&UDD and Reghu G. DirectorDTET signed the MoU.
Gracing the occasion, Chief Guest, Hon'ble Minister H&UD, Pratap Jena said that Odisha has made rapid strides in solid waste management in which the Wealth Centres are playing a key role.

The Wealth Centres (WCs)comprising of Micro Composting Centres (MCCs) and Material Recovery Facilities (MRFs) being successfully operated by Mission Shakti groups have been playing a critical role in collection, segregation, transportation, treatment, and reuse of wet and dry waste across all the 114 Urban Local Bodies (ULBs).

"However, we need to regularly and periodically maintain the equipment and build the technical capacity of the human resource engaged at the WCs," he said."The signing of MoU will result into a ULB level partnership where ITIs will undertake repair and maintenance of equipment & vehicles at the Wealth Centres and also in building the skill and capacities of students and trainers in the ITIs," he added.
In his address, Guest of Honour Minister of State, Skill Development and Technical Education, Premananda Nayak said 33 ITIs will partner with 114 ULBs for service and maintenance of equipments& vehicles in the Wealth Centers . "We are also in the process of opening Mechanic Motor Vehicle trade in other ITIs and also in some of the upcoming new 24 ITIs, through which this partnership will get further strengthened. The income that would be generated through this partnership will help the ITIs , their Trainers & Students financially, " he informed.
G Mathi Vathanan, Principal Secretary, H&UDsaid that ULBs have been facingthe problem in periodical as well as breakdown repair and maintenance of WC equipment due to poor after sale service from manufacturers/ suppliers due to which the need for skilled local technicians and support system was felt. Providing timely support for repair and maintenance to minimize down time of WCs at the same time providing a business opportunities for the ITIs in providing skilled services through thie students and trainers will result in Win- Win situation for the Govt Institutions, he informed. It will also support in providing field-level training and exposure to Master Trainers and ensuring availability of adequate inventory genuine spare parts through local partners, he added.
Sangramjit Nayak, Director, Municipal Administration (DMA) and Mission Director (SBM-U) H&UDD, welcomed the dignitaries present and assured full support of the two Departments to the ULBs and the ITIs for undertaking this initiative. Reghu G. DirectorDTET provided the vote of thanks.