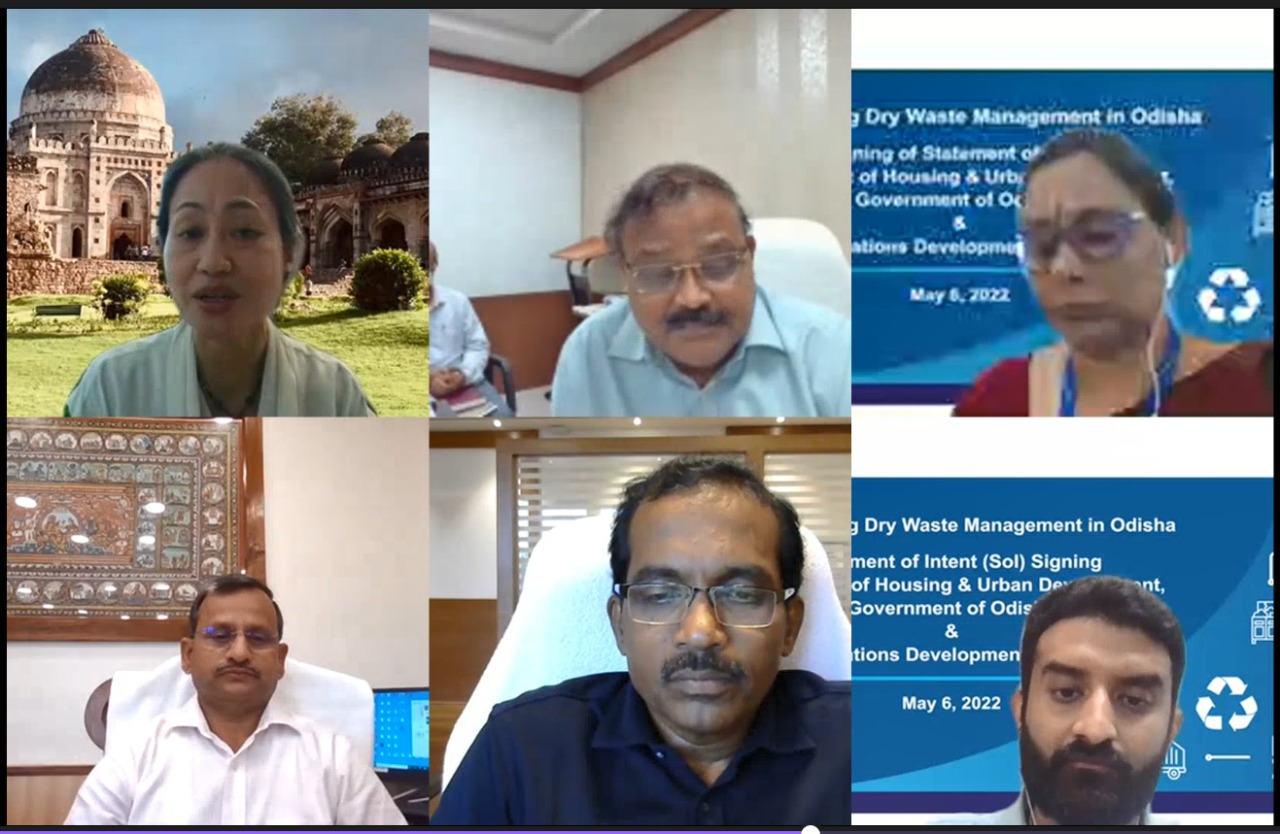 Bhubaneswar: The Department of Housing & Urban Development, Government of Odisha today signed an agreement with United Nations Development Program (UNDP) on promoting sustainable and inclusive dry waste management in the State of Odisha.
The agreement was signed through a virtual event by G. MathiVathanan, Principal Secretary, Housing & Urban Development Department, Government of Odisha and Shoko Noda, Country Head, UNDP India.
Suresh Chandra Mahapatra, Chief Secretary, Sangramjit Nayak, Director Municipal Administration and Mission Director, Swachh Bharat Mission (Urban) and other UNDP officials were present in the event.

In this collaboration for a period of four years, UNDP will be the technical partner of Government of Odisha in providing hand holding support for "Wealth Centres" and facilitating setting up of downstream facilities with private investment for value addition in recyclable dry waste including Plastic waste.
The partnership also intends to promote, capacity building and skill enhancement including digital skills of the Community Partners associated with dry waste management to ensure better working conditions, improved incentives, and access to social protection schemes of the Government.
This will ensure circular economy and will create additional livelihoods opportunities for the Waste Pickers and Mission Shakti Self Help Groups. This will also improve collection efficiency of the dry waste processing in the urban areas and improve the generation from waste.

Addressing the event, Chief Secretary Mr.Mahapatra, said "The State of Odisha has made significant progress in Solid Waste Management in recent years. This partnership is a reflection of our vision to ensure urban-rural convergence in improving waste management facilities across the State towards achieving circular economy."

"Efficient dry waste management offers many opportunities and benefits to the economy, people, and the environment. UNDP is committed to scale-up sustainable waste management models while making a lasting impact on the lives of Waste Pickers. We are thankful to the Government of Odisha for this partnership," said Ms. Noda, Country Head, UNDP India.

Speaking in the occasion Principal Secretary, Housing & Urban Development Mr.MathiVathanan said that this partnership with UNDP will strengthen dry waste management by the ULBs and also ensure improved skill sets, higher incomes & more job opportunities for the Community Partners leading to sustainable Solid Waste Management.