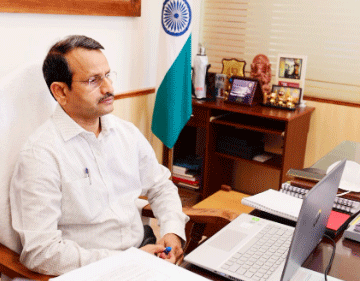 Bhubaneswar: Odisha State Pollution Control Board (OSPCB) has ranked Number One in Public Disclosure in the Country.
With 67 Percent Information and Indicators available of Public Domain pf OSPCB, it stood First in the country.
Suresh Chandra Mohapatra, Chief Secretary and Chairman of OSPCB is known for his transparent approach and K Murugesan, Member Secretary Odisha Pollution Control Board is all along has tried to make OSPCB an 'Open Book'.
With both Chairman Mr.Mahapatra and Member Secretary Dr. Murugesan striving hard to provide Information and Indicators on Public Domain, naturally OSPCB has stood lock solid under intense scrutiny of CSE, admits a Senior Scientist on Environment.
While Odisha Pollution Board stood First, Telengana State Pollution Control Board also stood on equal footing with 67 Percent tag.
Tamilnadu State Pollution Control Board stood Second and Madhya Pradesh State Pollution Control Board stood Third among the 31 SPCB and PCCs.
Disclosure of information in the public domain is one of the important functions of State Pollution Control Boards to increase public participation and public awareness.
There are statutory obligations also for some indicators like Continuous Emission Monitoring Systems (CEMS) data that has to be available in public domain.
However even after the Supreme Court order 2017 for making CEMS data public, the status of CEMS information in public domain is dismal in most of the states.
Similarly, there are other indicators also which have public importance and needs to be shared in public domain.
To assess the level of transparency maintained by SPCBs, Center For Science and Environment (CSE) has conducted a study, and assessed the data disclosure performance of 29 State Pollution Control Boards (SPCBs) and 6 Pollution Control Committees (PCC) in the Country.
This Report critically evaluates the information shared by SPCBs and PCCs during the last four-five years (2016–2021) and uses several indicators that provide a broader indication on the type and amount of information shared.
This Report provides the status of the information shared by SPCBs and PCCs on their websites and annual reports.
And this study aims to improve transparency in sharing information in public domain by SPCB and PCC.