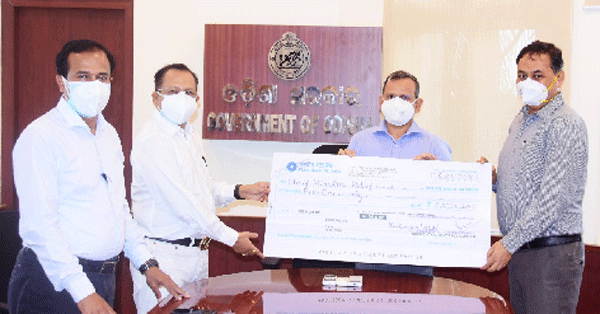 Bhubaneswar: The Odisha State Beverages Corporation Limited(OSBCL)  a Public Sector undertaking has donated  Rupees Five Crore to Chief Minister's Relief Fund(CMRF)  as its contribution to State's fight against the COVID-19 Pandemic.
Chief Secretary, Suresh Chandra Mahapatra and Development Commissioner, Pradeep Kumar Jena received the amount in shape of cheque from Principal Secretary Excise and Chairman OSBCL, Sushil Kumar Lohani at Lok Seva Bhawan recently.
Saroj Kumar Sethi, Managing Director, OSBCL was present on the occasion.
Appraising the Chief Secretary about contribution of OSBCL, Principal Secretary Excise, Mr.Lohani said, the corporation contributed Rs. 15.00 Cr. to the Chief Minister's Relief Fund during the last year and paid Dividend of Rs.7,58,01,326 to the State Government for the financial year 2019-20.
OSBCL also contributed Rs.1.43 Crore to the Department of Health & Family Welfare for purchase of ALS Ambulances. Besides, the Corporation distributed sanitizer and masks among the differently-abled persons and transgender communities".
Complimenting the corporation for such contribution, Chief Secretary Mr.Mahapatra urged them to adhere to the COVID-19 guidelines both at the official and personal level.
Mr.Mahapatra also asked them to keep up the awareness building activity for combating the pandemic.