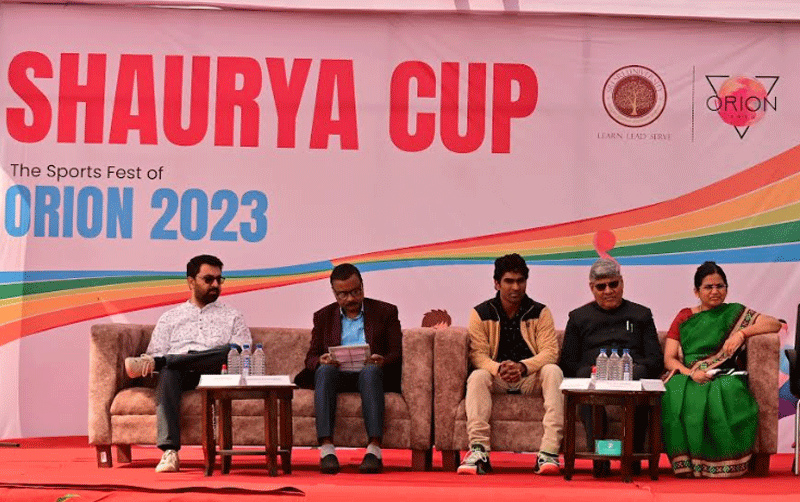 Cuttack: The Sports Fest of Orion – 2023 commenced with a grand Inaugural Ceremony on the 23rd of January 2023 at Sri Sri University premises.
Named as Shaurya 2023, the annual concourse encompasses 11 inter-university sports competitions which include Basketball, Volleyball, Table tennis, Cricket, Futsal, Chess, Lawn Tennis, Kho-Kho, Kabaddi, Athletics & Badminton.
The ceremony was graced with the Chief Guest Padma Shri Pramod Bhagat, the Guest of Honour, Satya Ranjan Sahoo, Collector and District Magistrate, Boudh.
The Sports Inaugural Ceremony began with the guests lighting the lamp, signifying the goodwill and brilliance of the forthcoming fest. It was followed by the students of Sri Sri Gurukul infusing energy and optimism into the surroundings through their divine Vedic chanting.
Dr. Vijaya Lakshmi Mohanty Director – HRDC and Head Public relations, Sri Sri University, introduced Orion's sports events and welcomed the gatherings, lauded the culture of sports in the institution nurtured by student players, their coaches and the management of Sri Sri University.
The Indian national flag was hoisted by the guests followed by the playing of the national anthem. The ceremony then witnessed the torch run by nationally and internationally acclaimed students in the field of sports.
The student coordinator of Orion Sports, Anivart Jhujhunwala, led the audience to the oath of ethics in sports. The ceremony witnessed the energizing Yoga Dance performed by the students of Faculty of Health and Wellness. Shri Gaurav Verma, Director Operations wished students to be courageous and be inspired by Netaji Subhash Chandra Bose as the Fest is inaugurated on the Parakram Divas.
Prof. B.R. Sharma, Vice Chancellor, Sri Sri University, took the podium and threw light on the importance of sports and how the honour of the country is related to the glory of sports.
He quoted Chandogya Upanishad "Yadev vidya karoti sharadhyopanishda. Tadeva veerayavattram bhavati", which means anything done with knowledge, faith and the right attitude becomes prosperous and big. He announced the formation of a Hockey Team in the University.
Satya Ranjan Sahu envisioned Orion Cultural, Sports and BFest to reach a global audience along with percolating the same to the grassroots.
Shri Bhagat spoke about his journey in the sports of Badminton, his winning gold medal in Paralympics -2020, receiving the Arjuna awards and Major Dhyan Chand Khel Ratna Award, etc.
The ceremony was enthralled by mesmerizing 'Nameless' band performance by the students of Sri Sri University.
The event ended with the offer of a vote of thanks by alumni Ashutosh Mohapatra.