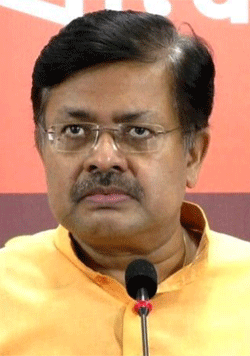 Bhubaneswar: The day the State Government has announced construction of 9.5 lakh pucca houses under PMAY, the BJP has made its mind to attack the BJD Government raising different loopholes in sanction of the houses for poor.
As the new allotment of PMAY houses has become a hot topic to discuss in the rural areas, the BJP don't want to lose this chance to reach the household, who will be benefited from the Pradhan Mantri Awas Yojana (PMAY). Till now, the Governing BJD has been able to grab the credit for conduction of the pucca houses.
Speaking to reporters here on Monday, senior BJP leader Pritiviraj Harichandan Monday alleged that the State Government excluded eligible people from beneficiaries' list while names of ruling party supporters have been included in the list through a conspiracy.
He said the saffron party would launch a vigorous statewide agitation if the State Government fails to mend ways.
The BJP leader said his party will not allow the State Government to deprive any eligible person from getting PMAY house. Harichandan said names of all eligible people must be included in the list of beneficiaries. Similarly, the names of people who are not eligible must be deleted, he said.
Tomorrow is the last date of filing complaints regarding the list prepared for PMAY beneficiaries in the state.
The BJP has threatened to send "Chetabani Patra" (warning letters) to the Chief Ministers from all block offices on January 25 and then to gherao all block offices on January 31 over the alleged irregularities.
"After alerting the State Government about allegations of irregularities in selection of real beneficiaries by sending Chetabani Patra and gherao block offices, we will submit the list of ineligible people before the Union government," warned Harichandan.
If the state government goes ahead with inclusion of ineligible people in the list, BJP will intensify its agitation across the state, he said.
BJP workers will gherao all block offices in the state on January 31 if the state government fails to stop irregularities in PMAY list, Shri Harichandan said.
Referring to the free rice scheme for the poor under NFSA, he said posters and banners will be put up at all fair price shops and retail centres across the state thanking Prime Minister Narendra Modi for the Centre's historic decision to provide free rice for Odisha's 3.25 crore people.
The party will take necessary steps to prevent the BJD from misleading people on the free rice scheme.
Meanwhile, Panchayati Raj Minister Pradip Kumar Amat said that transparency is being maintained in distribution of PMAY houses. People have been asked to lodge complaints through e-mails for their safety. People intending to lodge complaints in writing would be provided protection. The State Government has remained alert.
According to the State Government notification, people can lodge complaints any time between January 16 and 24.