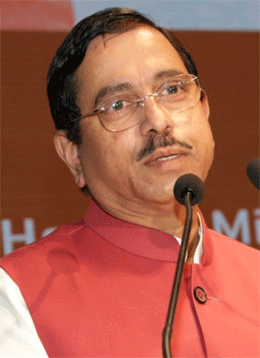 New Delhi: The State of Odisha has witnessed a 35 per cent growth in production of iron ore during the period April to January of 2021-22, in comparison to the same period of last financial year. Union Mines Minister Pralhad Joshi has informed this in Parliament on Wednesday.
While giving a written reply to a question asked by senior BJPMP Jual Oram, Mr.Joshi said Odisha had produced 81,226,000 tonnes of iron ore during April to January of 2020-21, which was increased to 1,09,675,000 tonnes during the same period of the current financial year. It means the iron ore production has increased by 35.02 per cent in this fiscal year.
The iron ore production in Odisha was 1,13,119,000 tonnes during the full year of 2018-19, which went up to 1,46,637,000 tonnes in the next fiscal year, 2019-20. However, the production came down to 1,04,631 ,000 tonne in 2020-21 (full year), he said.
The reason might be the imposition of lockdown and shut down in view of Covid-19 and many mines also decreased their production capacity in view of decrease in demand, said officials.
The total production of iron ore in India increased during 2019-20 as compared to 2018- 19, but it decreased in 2020-21(P) as compared to 2019-20, said the Union Mines Minister.
The reason for decline in the production of iron ore was that the year 2020-21 was affected by the pandemic as well as a large number of leases expiring on March 31, 2020, he said.
However, total production of iron ore in India increased by 27 per cent during 2021-22 (April-January) as compared to the same period of the previous year. In the States of Andhra Pradesh, Goa and Maharashtra, the production of iron ore decreased during this period.
Speaking about various steps taken by the Government of India to increase production and availability of iron ore, he said Mining and Mineral Policy reformed to ensure enhanced production, early auction & operationalization of expired mines, ease of doing business, seamless transfer of all valid rights & approvals, incentivizing for starting of mining operation & dispatch, transfer of mining leases, allowing captive mines to sell upto 50 per cent of the minerals produced, enhancing exploration activities, etc.