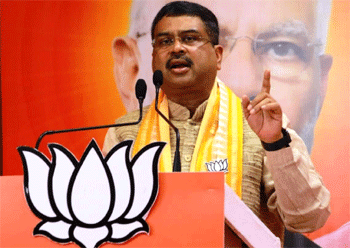 Calling Odisha's BJD Government as "insensitive" towards people's plight during pandemic, Senior BJP leader and Union Minister Dharmendra Pradhan Friday came down heavily on the State Government and accused it of making false promises during elections and forgetting after winning polls.
Mr.Pradhan made such allegations while addressing a virtual rally for the Tirtol assembly segment in Jagatsinghpur where BJP has fielded Rajkishore Behera as its candidate.
Both ruling BJD and Opposition Congress have fielded Bijay Shankar Das and Himansu Bhusan Mallick respectively; both are debutants in the elections.Bijay Shankar Das is son of BJD's sitting MLA B C Das, whose demise necessitated a by-poll in Tirtol reserved seat.
Mr.Pradhan made allegations referring to a poll promise made by BJD government for construction of a Rs 119 crore bridge over Mahanadi ahead of the Tirtol polls."
The people will not get misled this time. The BJD's poll promise made during Bijepur and Patkura polls have not been fulfilled," Mr.Pradhan alleged.
The Union Minister also slammed the state's BJD Government for not implementing the Centre's Ayushman Bharat program which could have helped the people during the COVID-19 pandemic. "The BJD government in Odisha is totally insensitive towards people's plight during pandemic. Had it implemented Ayushman Bharat, many needy people would have been benefited," he said.
He also came down heavily on the BJD government and accused it of failing to provide employment to migrant workers even as the Centre provided over Rs 22,000 crore to Odisha."
Had these migrant workers been covered under this central scheme, they would have received Rs 5 lakh," Mr.Pradhan said adding that lakhs of migrant workers have returned to Odisha due to pandemic situation across the country.
Mr.Pradhan also alleged that the central funds are not being utilized properly and diverted. He held the state government responsible for the high rate of unemployment in the state. "As people are not given jobs, they prefer to migrate to other states in order to survive," he said.
He also attacked Congress and said that voting for a Congress candidate means ensuring the victory of the BJD. He urged people to strengthen the hands of Prime Minister Narendra Modi by voting in favour of BJP candidate on November 3 by-polls.
Odisha Congress In-Charge A Chella Kumar, OPCC president Niranjan Patnaik and Working President Chiranjib Biswal and many senior party leaders also held a worker meet at Raghunathpur under Tirtol assembly segment. They alleged that the State Government has completely failed to meet the aspirations of the people.
 "The State Government has failed in all sectors. While Modi's BJP focus is to win polls, the BJD in Odisha also adopted the same approach. These two parties are not interested in development," Kumar told reporters. 
He said the people across the country got some relief through MGNREGA which was introduced by Congress. "Therefore, we appeal to people to vote for Congress, if they want to get rid of both the BJD and the BJP," Dr.Kumar said.