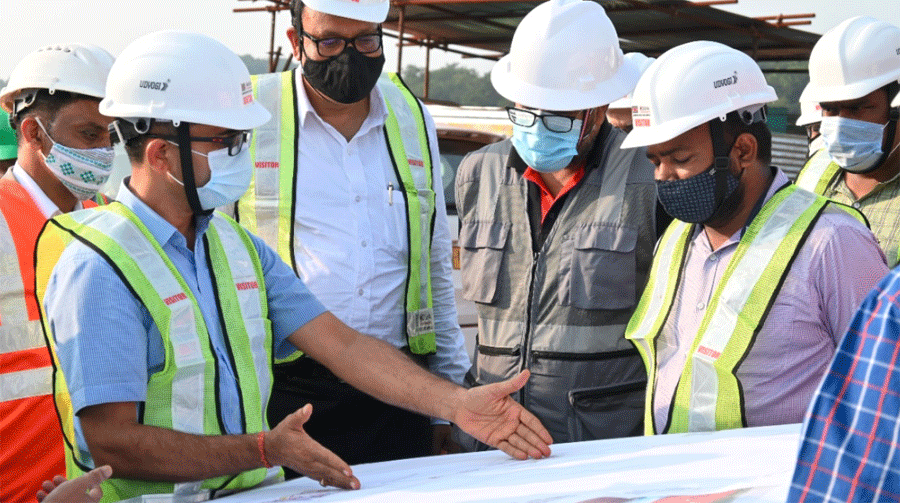 Bhubaneswar: Odisha Mining Corporation Limited (OMC), a gold category State PSU, is taking steps for augmentation of its production at the Kurmitar iron ore mines in the Koira region.
Balwant Singh, Managing Director, OMC along with Director (Personnel), Director (Operations) and senior officials visited Kurmitar iron ore mines in the Koira region. The team reviewed the present status of mining operations & assessed the readiness of Mine Developer cum Operator (MDO) for enhanced production capacity.
The mineral block has a reserve of 188.19 Million Tonne and mining scheme has been approved for production of 6 million tonne per annum of iron ore, which is valid upto 2024-25, sources said.
The OMC has also got consent to operate for 3 million tonne per annum, which is valid up to March, 2022. And, EC has been granted for production of 6 MTPA iron ore up to 28 April 2035.
During the visit, the OMC team led by MD advised officials to augment the transport management system (TMS) with all safety measures in place & ensure its proper functioning to manage transportation activities.
The team interacted with the Regional Manager Koira team and took feedback on employees' welfare activities. The MD and other senior officers instructed the officials to complete the infrastructure upgradation work within the stipulated time-frame.
The OMC signed the agreement with MDO Kurmitar Iron Ore Mining Pvt. Ltd. on 31October, 2019. Presently, the MDO is preparing the basic engineering for the project. Since, the contract is over a period of 25 years, the contract value would be more than Rs 5000 crore.
The production augmentation is being considered to cater the needs of the sponge iron plants and steel plants. Iron ore of this deposit is suitable for the steel industry. This demands continuation and expansion of the mining operation on a large scale in this mining lease area.
The continuation and expansion of the mining operations, as proposed, is going to enhance the revenue earnings both for the State Government. This project will also be a major source of earnings for the local tribal community, the source said.
Meanwhile, as part of integrated decentralized solid waste management project, OMC Koira on Monday launched a sanitation park in presence of Balwant Singh, MD, OMC, Director (Personnel) and Director (Operations) Senior executives, Regional Manager and Panchayati Raj Institutions (PRI) members.
The park will collect, segregate, treat & dispose of the solid waste of Koira town. The OMC team saw ongoing work of regional office building & advised civil executives concerned for quality and quick execution. They also visited the OMC colony & interacted with the employees.
MD along with senior officials also visited Bhanjapali and Kasira mines to assess the present status & instructed Geology team for early exploration of the mines.