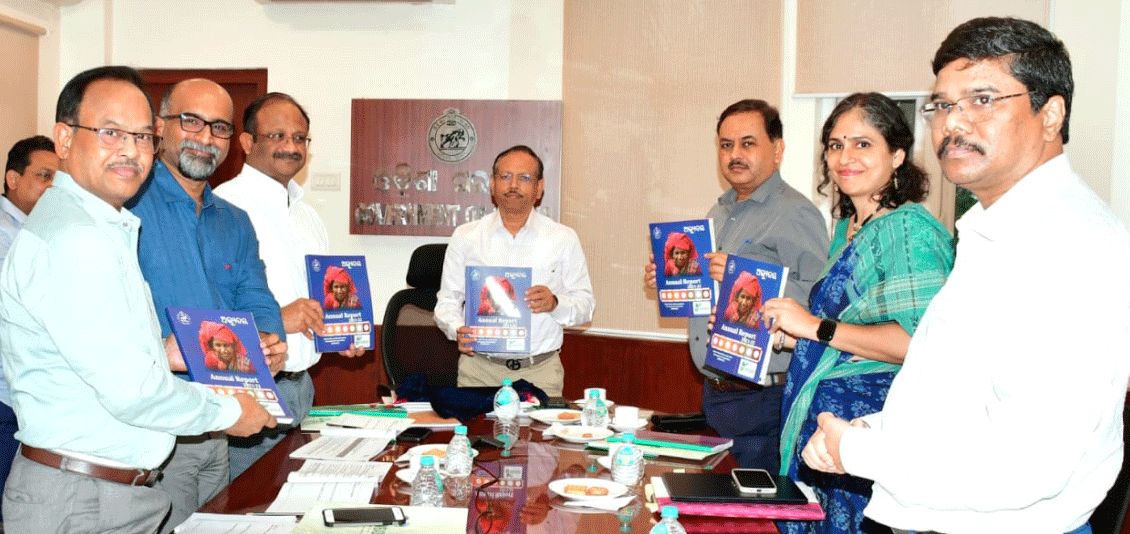 Bhubaneswar: The Odisha Mineral Bearing Area Development Corporation (OMBADC) has approved 54 developmental projects amounting to Rs.17318.05 crore during the financial year 2022-23.
This was known from the OMBADC Board of Directors meeting held here under the chairmanship of Chief Secretary and Chief Development Commissioner Pradeep Kumar Jena on Tuesday.  
Ace Mandarin, G. Rajesh, CEO of OMBADC presented the financial status of the company for the FY 2022-23, wherein total fine amount collected, funds disbursed and utilized by the different line departments was detailed out. The status of projects funded under compensation money was also presented to the Board of Directors.

Debidutta Biswal, PCCF & HoFF, Odisha, S K Lohani, Principal Secretary Panchayati Raj & Drinking Water, Subha Sarma, Secretary Women & Child Development and others were present.
CEO Shri Rajesh informed that under the compensation money funds, the Board has approved 54 projects amounting to Rs. 17318.05 crore under different Board meetings since April 2019. The projects have been proposed by 18 line departments and most of the approved projects are under implementation, he said.
The line departments have successfully utilized an amount of Rs. 6227.97 crore (68%) till date out of the total released fund of Rs. 9181.06 crore, the CEO Shri Rajesh said.
CEO OMBADC Shri Rajesh is regularly monitoring the implementation of programs. Under the drinking water sector, OMBADC has approved 30 mega piped water supply projects for four mining districts- Keonjhar, Sundargarh, Mayurbhanj and Jajpur and Pallahada block of Angul out of which two projects have been commissioned and stared supplying water to 123 villages.
Similarly, 690 single and multi-village schemes for 787 villages of Mayurbhanj and Drink from Tap (DFT) scheme for 14 ULBs have been initiated.
The total investment under the drinking water sector is Rs.8909 crore out of Rs.8008.25 crore was sanctioned to Panchayati Raj and Drinking Water Department. An amount of Rs.4674.89 has been released by OMBADC to the PR Department against an expenditure of 78% incurred by the Department.
Several projects under the education sector like infrastructure development in elementary, secondary schools and OAVs are under progress.
As many as 1146 secondary schools have also been funded by OMBADC under the High School Transformation under 5T initiative. Till date, works are completed in 1088 schools out of which 1065 schools have been inaugurated. The 3rd phase project for 205 schools has also been approved by the Board today.
OMBADC is also supporting the upgradation of 16 Government ITIs and Polytechnics in the mining districts and developing them as Centre of Excellence.
Construction of 11 indoor stadiums for ULBs and NACs has been taken up with funding from the corporation and the work is expected to be completed by March 2023. The total allocation for the education sector is Rs. 3539.30 crore.
Under the health sector, OMBADC has allocated a total of Rs. 2942.91 crore for infra development in the district, block and sub block level health facilities, construction of 150 bedded MCH wing in the medical college at Jajpur, new infra projects for ICDS, construction of composite rehabilitation centers in mining districts etc.
The water conservation and rural connectivity sectors have got allocation of Rs. 700 crore each while more than Rs.500 crore allocated for the livelihood projects.
Besides, Rs. 19.75 crore has been sanctioned for the environment protection and pollution control sector where eight pollution check equipment have been installed in excessively polluted areas of the mining districts.
In the FY 2021-22, a total of Rs. 2672.88 crore has been disbursed to line departments whereas in the FY 2022-23 till date, total funds released stands at Rs.2954.27 crore.
This increase is the result of continuous monitoring of the projects by OMBADC through field visits, joint review meetings etc. OMBADC officials have undertaken 15 field visits in the current fiscal and 24 joint review meetings have been conducted. Besides this, the Oversight Authority Justice A.K. Patnaik, has himself undertaken two field visits to Sundargarh and Keonjhar.
During the meeting, the CEO Shri Rajesh presented two new proposals related to High School Transformation for 205 schools with an estimated cost of Rs. 125.46 crore and supporting the Mukhyamantri Sampoorna Pushti Yojana (MMSPY) in 78 ICDS projects amounting to Rs. 589.46 crore.
The meeting concluded with the release of the Annual Report of OMBADC for the year 2021-22 and brochures for the months of January and February 2023.
| | |
| --- | --- |
| | ReplyForward |