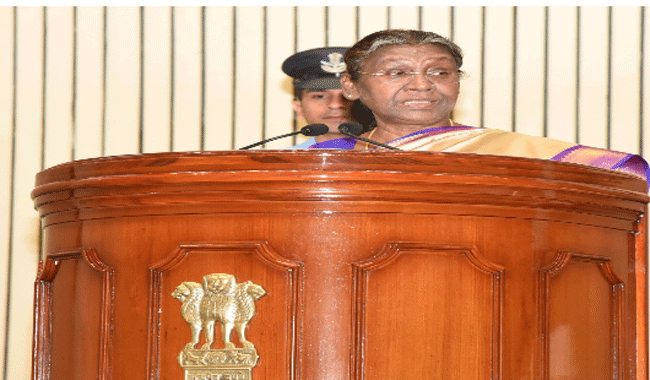 New Delhi: Shrimati Bishnupriya Mahakud and Shrimati Saila Jena of Jajpur District in Odisha have been honored with the "Swachh Sujal Shakti Samman (SSSS) 2023".
President of India, Droupadi Murmu honored the Women Champions for their exceptional and exemplary work being done at Grass root level. Union Minister Jal Shakti Gajendra Singh Shekhawat, MoS Jal Shakti Bishwesar Tudu graced the occasion.
While Shrimati Mahakud is the Sarpanch of Sujanpur Gram Panchyat of Jajpur District, Shrimati Jena is the Women Self Help Group Representative from Akarpada Gram Panchyat of Japur.
Swachh Sujal Shakti Samman 2023" was organized by the Ministry of Jal Shakti to honour the women champions of rural water and sanitation sector, was graced by the President of India, Shrimati Murmu. This event organized in the run up to the International Women's Day, was to felicitate the exceptional and exemplary work being done at the grassroots level by women in the implementation of Swachh Bharat Mission – Grameen (SBM-G), Jal Jeevan Mission (JJM), Jal Shakti Abhiyan: Catch the Rain (JSA-CTR). 36 women WASH Champions were conferred with the 'Swachh Sujal Shakti Samman 2023' by the President of India and Union Minister of Jal Shakti.
The event also saw the launch of Jal Shakti Abhiyan – Catch the Rain 2023 and release of National Water Mission's(NWM) SoPs on Source Sustainability by Minister of Jal Shakti Sh. Gajendra Singh Shekhawat.
Union Minister also presented President with the first copy of the 'Swachh Sujal Shakti Ki Abhivyakti' – a compendium of case stories from SBM (G), JJM and NWM. A customized 'My Stamp' for NWM was launched by Minister of State for Communications Devusinh Jesingbhai Chauhan, who also presented the first copy to President.
In her address, President observed that women are at the forefront of all the 3 missions of Ministry of Jal Shakti, 'We recognize the efforts of women in the Self-Help Groups and community-based organizations who have played a vital role in spreading awareness about the importance of water conservation, water management and sanitation. Their hard work and determination have been instrumental in the success of the Swachh Bharat Mission, Jal Jeevan Mission and Jal Shakti Abhiyan'. President added that it's the women leadership in the SBM(G) and JJM programs, that has brought piped water supply to more than 11 crore rural households and in achieving more than 2 lakhs ODF Plus villages. Highlighting the overall benefits of the flagship missions, Smt. Murmu said, "Nobel laureate Michael Kremer, in his study has reported that 1.36 lakh lives of children under five years of age can be saved every year in rural India by providing safe and adequate drinking water through tap connections and having safe sanitation practices".
Applauding the women champions, she said that we all have seen how Babita Gupta of Bihar was awarded today for converting plastic waste into decorative products, Salila Jena of Odisha for solid and liquid waste management, Munni Devi of Jharkhand for providing tap water to homes, and Neelam Singh for playing an important role in making the village ODF plus through community cooperation. "These women make my belief stronger that with their dedication and hard work, India will present an example to the world in water management and sanitation." In her concluding remarks, President said, "I would like to tell all the Awardees present here that when you go back to your villages, tell people about the work being done in the field of cleanliness and water conservation across the country, inspire them to follow environmental friendly practices. I am sure that today's award will inspire you to work with more dedication and seeing you, other people will also learn and contribute to cleanliness, water and environment protection."
DDWS is implementing two flagship programmes of the central government i.e. Swachh Bharat Mission Grameen (SBM-G) and Jal Jeevan Mission (JJM). SBM-G was started on 2nd October 2014 with the objective to stop Open Defecation. All villages in the country declared themselves as Open Defecation Free(ODF) on 02nd October, 2019. Thereafter, SBM-G 2.0 was launched to sustain the ODF status of the villages and to improve the level of cleanliness in rural areas through Solid and Liquid Waste Management, thereby making the villages ODF Plus. As on date more than 2 lakh villages of the country have been declared ODF Plus. On 15th August 2019, Jal Jeevan Mission was launched by the Prime Minister. At the time of the launch only 3.23 Crore rural households had access to tap water connection, with relentless efforts made on ground by the Mission in partnership with the State and UTs, today over 11 Crore rural households are getting potable water through taps.