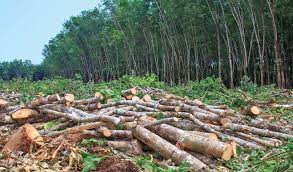 Bhubaneswar: Odisha has remained in top position at All India level in clearance of mining projects in protected forest areas in the past five years.
Minister of State (MoS), Ministry of Environment, Forest and Climate Change, Ashwini Kumar Choubey told Rajya Sabha on Monday.
Giving a written reply to the House, Choubey said mining projects in 16313.17 hectares of protected forest areas have been approved by 16 mineral bearing State and Union Territories (UTs) during the period April 1, 2016 to March 31, 2021.
Among the States, Odisha secured top position by giving clearance for mining on 7406.12 hectares of protected forest area during the five years. Madhya Pradesh was in second position with approving forest clearance for 2795.91 hectares of land followed by Telangana (2218.60 ha), Chhattisgarh (1448.68 ha) and Jharkhand (1113.56 ha).
As per the order of the Supreme Court (dated 04.08.2006), the permission for mining cannot be granted inside any National Park and Wildlife Sanctuary. However, the mining activities can be permitted in Protected Forest (PF) areas which are neither in National Park nor in Sanctuary by the concerned State Government subject to prior approval of the Central Government under the provisions of Forest (Conservation) Act, 1980.
In his reply, Choubey further said the Central Government considers the proposals for diversion of forest land when the same are duly recommended by the concerned State/UT.
Whenever any proposal for any non-forestry activity including mining is received for granting prior approval of diversion of forest area under Forest (Conservation), Act, 1980, due diligence, including impact on flora and fauna, is exercised to avoid the use of forest land, or to keep it at bare minimum, he said.
In cases where it is unavoidable, the MoS said the forest area is allowed to be diverted, subject to certain conditions including the Compensatory Afforestation (CA), payment of Net Present Value (NPV) and protection/afforestation of the Safety Zone area.
"Considering the impact of the project on flora and fauna, additional mitigation measures in the form of soil and moisture conservation works, wildlife management plan and Catchment Area Treatment (CAT) plan etc are also stipulated on a case-to-case basis, wherever necessary," Choubey said.
Besides, compliance under Scheduled Tribes and Other Traditional Forest Dwellers (Recognition of Forest Rights) Act, 2006 (FRA) is also ensured prior to any approval for use of forest area for non-forestry purpose under Forest (Conservation) Act, 1980 is accorded, he added.