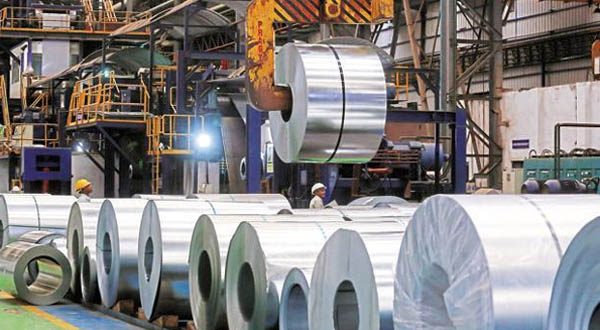 Bhubaneswar: Odisha has turned out to be in the forefront of the States so far Crude Steel production is concerned and is improving its position continuously.

The State has been able to produce 2,32,41,000 Tons during 2021-22, Ministry of Steel sources said.

While Jharkhand was frontrunner so far Crude Steel production is concerned during 2017-18, Odisha has been outsmarting the State since 2018-19 and continues to produce more crude steel.
While in 2017-18, Odisha had produced 1, 69, 68,000 Tons of Crude Steel, Jharkhand produced 1,71,13,000 Ton.
However Jharkhand was able to produce 1,72,38,000 Ton in 2018-19, while Odisha produced 1,92,99,000 Tons in 2018-19.
Similarly Odisha produced 2, 02,53,000 Tons of Crude Steel, while Jharkhand was lagging with 1,72,09,000 Tons of production of Crude Steel.
Odisha during 2020-21 has 2,14,32,000 Tons of Crude Steel, while Jharkhand has been able to produce 1, 55,49,000 Tons of Crude Steel.
Odisha produced 2,32,41,000 Tons of crude steel during 2021-22, however Jharkhand lagged with 1,70,94,000 tons of crude steel.
Among the all regions of the country, Eastern Region is performing much better than the others.
And Odisha continues to be largest producer of Crude Steel Production in the country.
In fact Odisha will be producing 100 Million Tons of Steel by 2030 as per the latest estimates is concerned because the State is attracting huge investment in Steel Sector.
National Steel Policy envisages production of 300 Million Ton Steel by 2030.
According to Vision 2030, Development of Downstream Units in Metal Sector envisages to achieve more than 50 Percent value addition to the primary metal produced in the State.
Presence of Major Steel Makers like SAIL, TATA Steel, JSPL, JSL, VISA Steel, MESCO and AMNS India will improve Odisha position in Crude Steel production.
In the meantime, Ministry of Steel, Government of India has initiated the formation of "Purvodaya" as an integrated Steel Hub encompassing Odisha, Jharkhand, Chhattisgarh, West Bengal and Northern Andhra Pradesh. IDCO has identified 500 Acre land in Kalinga Nagar for Kalinga Nagar Steel Cluster.
As the crude steel production in the country is on rise, import of finished steel is coming down.
While Steel being a de-regulated sector, the Government acts as a facilitator, by creating enabling environment for development of the sector, officials say.
In fact the National Steel Policy has a long-term vision to enhance domestic consumption, produce high-quality steel and make the sector globally competitive.
And the notification of Production-Linked Incentive (PLI) Scheme for Specialty Steel with an outlay of Rs. 6,322 Crore to promote the manufacturing of specialty steel within the country for domestic use and export by attracting Capital investments.
Make in India initiative and the PM Gati-shakti National Master Plan with further engagement with potential users, including from Railways, Defence, Petroleum and Natural Gas, Housing, Civil Aviation, Road Transport and Highways, Agriculture and Rural Development sectors to enhance the steel usage, overall demand for steel and investment in steel sector in the country.