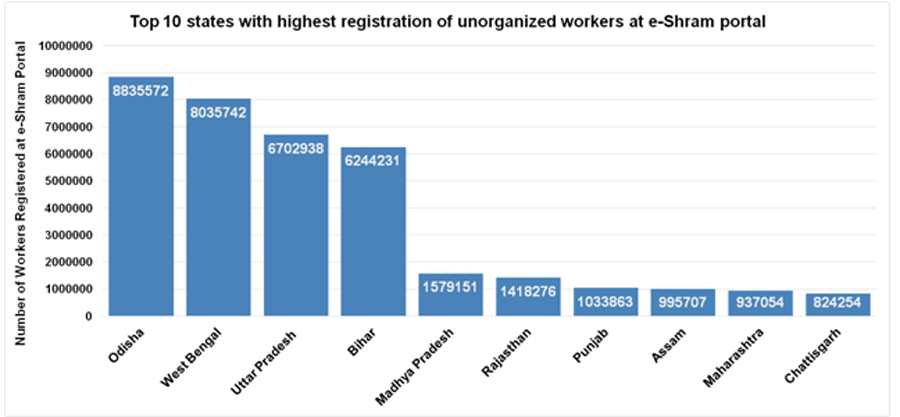 Bhubaneswar: Odisha is leading from the front so far as registration of workers in e- Shram portal is concerned even as more than 4 crore workers across the country have registered in the national portal.
Minister for Labour and Employment Bhupender Yadav said that by registering, the unorganized workers will be able to get the benefits of government schemes easily.
Odisha is at the forefront of this initiative with the highest number of registrations of more than 88 lakhs.
The State has registered 88,35, 572 workers in the e-Shram Portal and in total 4,05,40,753 workers have registered across the country in less than two months.
States like West Bengal, Uttar Pradesh, Bihar and Madhya Pradesh have the largest number of workers registered in the national portal.
Majority of the workers are from agriculture and construction sectors, given the sheer volume of these two sectors in employment generation in India.
Besides, workers from diverse and different occupations like domestic and household workers, apparel sector workers, automobile and transport sector workers, electronics and hardware workers, capital goods workers, education, healthcare, retail, tourism and hospitality, food industry and many more have registered at this portal.
Around 65.68 percent of these registered workers are in the age group of 16-40 years and 34.32 PC are in the age group of 40 years and above.
The social compositions of these workers include other backward castes (OBC) and general castes with almost 43PC and 27PC respectively from these categories and 23PC and 7PC being from scheduled castes and scheduled tribes.
A substantial proportion of registration has been facilitated by the CSC as depicted in the graph above. Interestingly, in certain states like Kerala and Goa and in North-East India, Meghalaya and Manipur a greater proportion of individuals have self-registered in the portal.
Similar is the case with most Union Territories like Dadra & Nagar Haveli, Andaman & Nicobar and Ladakh.
However, according to the latest updates an overwhelming proportion of workers of 77 PC have registered themselves through CSCs.
There has been a week-on-week improvement in the outreach of the CSCs as indicated by the figure above. Therefore, outreach of the CSCs emerges to be a crucial factor in lesser facilitated areas.
The workers are encouraged to visit their nearest CSCs to register themselves at the portal and take advantage of this exercise which would lead to greater portability and last mile delivery of various welfare programmes.
This registration would facilitate delivery and accessibility to crucial welfare programs and various entitlements meant for the workers in the unorganized sector and employment.
For online registrations, individual workers can use e-Shram's mobile application or the website.
They can also visit the Common Service Centres (CSC), State Seva Kendra, Labour Facilitation Centres and selected post offices of the Department of Posts' Digital Seva Kendras to register themselves in this portal.