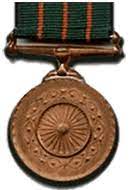 Cuttack: A total number of 67 Police Personnel from Odisha will get Medals for Gallantry on Independence Day.
In fact Odisha had got 216 Gallantry Medals so far. Today Odisha has been awarded with 67 Medals, which is One Third of the previous years.
The Government of India has announced this Saturday. This is the highest ever medals announced for Odisha Police personnel, Top Cops admit.
"We thank the Government of India for this recognition of valour and courage of Odisha Police personnel. This is the highest number of medals on one occasion announced for Odisha Police. It is a matter of pride and celebration for us," Odisha Police Headquarters said in a statement.
The incidents of valiant action were exchange of fire with LWE personnel on nine different occasions, it said.
"While we celebrate the valour and bravery of our men and remember the sacrifice of our martyrs, we appeal to Maoists to lay down their arms and join the mainstream," the Odisha Police said.
Among the majority of the 628 Gallantry Awards, 1 PPMG to J&K Police & 1 PPMG to CRPF (Posthumous) is being awarded, 398 personnel are being awarded for their gallant action in Jammu & Kashmir region, 155 personnel for their gallant action in Left Wing Extremism affected areas and 27 personnel for their gallant action in North-East Region.
Among the personnel receiving Gallantry Awards 256 are from J&K Police, 151 are from CRPF, 23 are from ITBP and 67 are from Odisha Police, 25 are from Maharashtra and 20 are from Chhattisgarh and the remaining from the other States/UTs and CAPFs.
At national level, Odisha got second highest Gallantry Medals. Jammu and Kashmir has got the highest 256 PMG.
Apart from the 67 medals, two will get the President's Police Medal (PPM) for Distinguished Service while another 11 officers will be awarded the Police Medal for Meritorious Service.