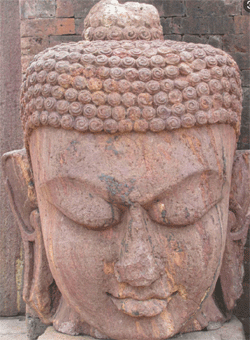 Bhubaneswar: In another instance of Central negligence, the Union Government has deprived Odisha from getting funds for development of Buddhist Circuits under Swadesh Darshan Scheme.
Despite the request of Chief Minister Naveen Patnaik, the Union Ministry of Tourism has not included any Buddhist site of Odisha under the Scheme.
The Union Government had launched the scheme for promoting Buddhist Circuits in the country.
In fact Odisha has a strong legacy of Buddhism dating back to the 3rd Century BC. Several sites in the State are endowed with huge Buddhist monuments and heritages.
The most prominent are Ratnagiri, lalitgiri, Udayagiri, langudi and Dhauli.
These monuments and heritages attract a large number of Buddhist pilgrims and tourists all over the world. However, it has not been taken up under the scheme.
Under the SwadeshDarshan Scheme, five projects worth Rs 325.53 crore have been sanctioned for Buddhist circuit development in the States of Madhya Pradesh, Uttar Pradesh, Bihar, Gujarat and Andhra Pradesh.
The sanctioned projects are under different stages of implementation.
In 2015, the State Government had approached the Ministry of Tourism (MoT) to include the Buddhist Circuit of Odisha in the National Buddhist Circuit Development Plan.
In a letter to the then Union Tourism Minister, Chief Minister had said the Buddhist Triangle — popularly known as the Diamond Triangle of Odisha, comprising Ratnagiri, Lalitgiri and Udyagiri — deserves to be included in the list of Buddhist circuits under the new scheme.
Patnaik had said these Buddhist destinations would be improved with adequate tourism infrastructure with their inclusion in the scheme.
However, the Centre has not taken up the cause of Odisha, for which the State having strong bonding with Buddhism is bound to miss the opportunities to develop these Centres.