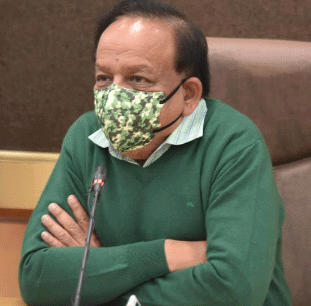 New Delhi: National Felicitation has been received by several Government run Health Care Institutions in Odisha.
Union Minister Health & Family Welfare, Harsh Vardhan felicitated Angul District headquarters Hospital (DHH) as Kayakalp Winner Hospital.
DHH Kalahandi felicitated as Runners Up Hospital in DHH category.
Sub Divisional Hospital (SDH) Rairangpur of Mayurbhanj district was felicitated as Winner Hospital in SDH/Community Health Center (CHC) category for the year 2019-20.
Total 19 DHHs, 78 SDH/CHC, 66 Urban PHCs, 156 PHCs and 18 HWC Sub centers were qualified for Kayakalp award in the year 2019-20.
Dr. Harsh Vardhan, Union Minister of Health and family Welfare inaugurated the 5th National Kayakalp Awards along with Ashwini Kumar Choubey through a video conference.
The Ministry of Health & Family Welfare, Government of India launched a National Initiative 'Kayakalp' on 15 May 2015 to ensure hygiene, sanitation and cleanliness in Public Health Facilities in India.
Those District Hospitals, Sub-Divisional Hospitals, Community Health Centres, Primary Health Centres and Health & Wellness Centres in public healthcare system who have achieved high level of cleanliness, hygiene and infection control were recognized and felicitated with award.
Applauding the importance of Kayakalp scheme Dr Harsh Vardhan said, "Kayakalp has not only been able to facelift the condition of public health facilities but has also made significant impact in improving the behaviour of masses. This paradigm shift is well reflected in the number of 'Satisfied' patients as reported through 'MeraAspataal'.
Dr. Harsh Vardhan noted the significant success under Kayakalp. He said, "The scheme, whichsawthe participation of 716 District Hospitals and central government institutions in its first year has spread to 26,172 public health facilities now. In the last year 2019-20, number of Kayakalp facilities has increased to 7,615."
He added, "Encouraged by the success of Kayakalp initiative, MoHFW had collaborated with Ministry of Drinking Water and Sanitation and launched Swachh SwasthSarvatra (SSS) program, under which, one community health centre (CHCs) situated within ODF block receives one-time grant of Rs. 10.00 lakhs under the NHM for undertaking improvement activities, so that the CHC becomes Kayakalp CHC."