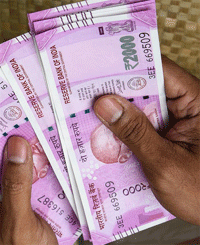 Bhubaneswar: In order to boost the economy, Odisha Government plans to spend at least Rs.50,000 Crore in these three months of this Financial Year to speed up development process in the State, which will be done in a well monitored process.
While Fiscal Performance by 30 December was moderate, and spending by various Administrative Departments were comparatively less, so speeding up the spending on Program Expenditure and Infra structure Development is on cards.
Annual Budget Estimate envisaged total expenditure of Rs.1,56, 498 Crore, total spending by 30 December was Rs.75,321 Crore. Accordingly, Rs.49,679 Crore will be spent in January, February and March, 2021.
While from April to December State was facing COVID-19 Pandemic and spending was slowed down due to Shut Down and Lock Down. Due to Pandemic, State Economy suffered a lot.
As situation has improved, expenditure in Programs will be scaled up to a great extent.
For Program Expenditure Rs.80,729 Crore has been allocated and out of which Rs.31,254 Crore has been spent till 30 December, which is only 39 Percent.
So during these three months Program Expenditure has been targeted for a spending of Rs.28,746 Crore.
According sources the Departments will be able to spent a total of Rs.60,000 Crore on Program Expenditure by 31 March as during last 9 months spending was not encouraging.
So far Revenue Receipts is concerned it has been budgeted that the State will receive Rs.1,25,000 Lakh Crore during 2020-21.
However Total Revenue Receipts by 30 December was Rs.67,923 Crore and by 31 March it is expected that Rs. 32,105 Crore will be received.
Odisha is receiving much less Central Transfers though it was estimated Central Transfer will be to the tune of Rs.68,300 Crore, by 30 December, State has received only Rs.33872 Crore on this account making a less 19.5 Percent of the receipt.
Similarly Grants from Centre has dwindled as Rs.32000 Crore was expected from Union Government during 2020-21, however by 30 December, it has received only 16,669 Crore which is less 16 Percent.
Looking at the flow of funds, it is expected that Odisha will receive Central Grants to the tune of Rs.6700 Crore by 31 March, which will be much less as compared to the expectations of the Budget Estimators.
Total Own Revenue, which is estimated at Rs.56,000 Crore is likely to be collected as there is over drive on this count.
Senior officials in charge of Own Tax collection are engaged in extensive drive to collect the targeted revenue collection.
Department of Finance is coordinating on this count as State Government is trying hard to pump more funds for taking up development to the next level, said a senior official.