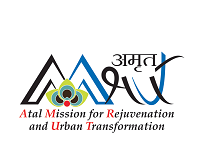 Bhubaneswar: The Union Ministry of Housing and Urban Affairs (MoHUA) has sanctioned Rs 864.28 crore to Odisha under Atal Mission for Rejuvenation and Urban Transformation (AMRUT) scheme so far.
As many as nine cities of State – Bhadrak, Cuttack, Baleshwar, Puri, Bhubaneswar, Baripada, Brahmapur, Rourkela and Sambalpur – have been covered under the scheme, which was launched on June 25, 2015.
The scheme was launched with focus on development of basic infrastructure in the sectors of water supply; sewerage and septage management; storm water drainage; green spaces and parks; and non-motorized urban transport. A set of reforms in urban management and capacity building of urban functionaries is also part of the Mission.
Under the scheme, the Centre has provided Rs 86.98 crore in 2016-17, Rs 320.72 crore in 2017-18 and Rs 99.88 crore in 2018-19. While the highest amount so far of Rs 342.82 crore was sanctioned to Odisha in the year 2019-20, only Rs13.08 crore was given during the last financial year. However, Rs 126.73 crore has been allocated during the current financial year, MoS, Union Ministry of Housing and Urban Affairs, Kaushal Kishore told Parliament during the ongoing winter session.
The approved plan size of the Odisha for AMRUT projects are Rs 1,599 crore, which include committed Central Assistance (CA) of Rs 797 crore. State of Odisha has taken up 191 projects worth Rs 1,715 crore, and of these, 171 projects worth Rs 1,409 crore have been completed and only 20 projects worth Rs 307 crore are under implementation, he said.
Against the targets of providing 2.91 lakh water tap connections to achieve universal coverage of water supply and 2.17 lakh sewer connections to enhance substantial sewerage network coverage in the 9 AMRUT cities, 1.89 lakh new water tap connections and 3.81 lakh new sewer connections have been provided respectively so far under AMRUT and in convergence with other scheme, the Union Minister said.
The projects under the AMRUT scheme are large infrastructure projects with long gestation periods and take significant time for completion. Moreover, Covid-19 pandemic and natural calamities such as floods, cyclones etc. affected the progress of the implementation of projects, he informed.
Kishore further said the total Central outlay for all over India under the scheme is Rs 50,000 crore, of which Rs 35,990 crore has been allocated for Central Assistance to States/ Union Territories (UTs) for AMRUT projects. So far, funds amounting to Rs35,221 crore have been released as Central Assistance (CA) to the States/UTs, of which Rs 28,894 has been released for AMRUT projects.