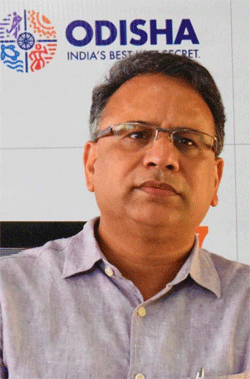 Odisha's Economy is expected to register growth in the range of 8.0 to 8.5 Percent in 2022-23.
While the State Government is preparing its Budget for 2022-23, a projection is planned as per available scenario, which reveals that domestic drivers are gradually improving, though global factors are turning adverse.
So Odisha economy is set to do much better than national economy. As per Reserve Bank of India (RBI) growth forecast, real GDP growth of India is projected at 7.2 Percent, whereas Odisha will have 8.0 to 8.5 Percent of growth, revealed a senior officer in Department of Finance.
Vishal Dev, Principal Secretary Finance is having detailed deliberations with senior officials of the Department of Finance. While Budget preparations is on State's focus is on Higher Investment on Infrastructure, Employment Generation, Industries, MSME, and Social Sector.
With such a focus, State Economy will be helped to register a nominal growth beyond 12 Percent in 2022-23, officials feel.
Focus is on revival of economy and employment generation as to building 'New Odisha" with upgrading of health care facility- through upgradation of existing facilities and building new State Of The Art Medical Infrastructure, transforming rural and urban Odisha. Generating more employment in all sectors is primary focus.
Besides, Capital Spending will also require high priority for revival of the economy as much higher growth in GDP is planned.
While the size of State Budget has grown by more than 15 times in last 21 years between 2000-01 to 2021-22. It has increased from Rs.11,047 Crore in 2000-01 to Rs.1,70,000 in 2021-22.
As a percentage of GSDP, the size of the Budget has remained within the range of 20-25 Percent with minor Inter-Year variations.
So far Sectoral Composition of spending is concerned expenditure on General Services which was contributing to about 49 Percent in 2004-05 has been brought down to about 25 Percent.
And expenditure on Social and Economic Services have been consistently increasing. In the Financial Year 2021-22, the expenditure on Economic and Social Services contributed to 37 Percent each of the total budgeted expenditure respectively.
This is a major change in Budgeting, which is helping the State in boosting its Social and Economic Environment, opine experts, while appreciating the efforts of the State Government.
Most importantly with improved revenue performance, expenditure rationalization and debt restructuring, the State's dependence on borrowing has been reduced substantially. The Debt Stock and Interest Payment liability are near much below the threshold of sustainability parameters.
In line with recommendations of Finance Commission, the States are required to keep Debt/GSDP Ratio within 25 Percent and keep Interest Payment to Revenue Receipt (IP/RR) Ratio within 15 Percent.
The Debt Stock/GSDP Ration of the Stste has been brought down from 50.73 Percent in 2002-03 to 17.38 Percent in 2019-20.
Similarly, the IP/RR Ratio has been brought down from 40.2 Percent in 2001-02 to below 6 Percent in 2020-21. Thus the State has been able to stabilize the Debt Stock and achieve Debt Sustainability, opine experts.