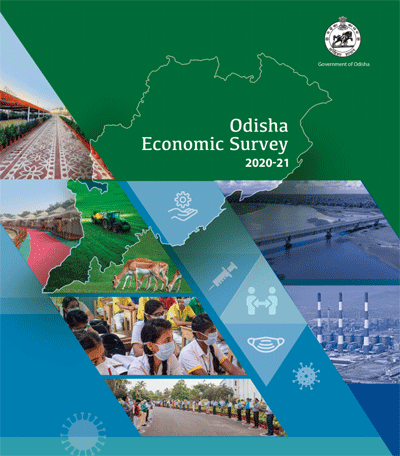 Bhubaneswar: Economy of Odisha has contracted by 4.92 Percent in 2020-21 and the Par-Capita Income (PCI) of Odisha in 2020-21 has declined to Rs.1,02,156 in comparison to Rs. 1,04,566 in 2019-20.
PCI of the State is expected to decline by 2.30 Percent as against the decline of 5.41 Percent at national level.
Odisha Economic Survey-2020-21, which was presented in the Odisha Legislative Assembly on 20 February, reveals the economic health of the State and decline is attributed to COVID-19 Pandemic.
In spite of devastating impact of COVID-19, the sectoral composition of the State follows almost the similar pattern like previous year, the Report reveals.
The agricultural sector, industry sector and services sectors continue to contribute 21.27%, 36.26% and 42.47% to the Gross State Value Added (GSVA) as against the respective shares of 21.38%, 37.92% and 40.70% during 2019-20.
The annual average growth rate of State Economy during 2012-13 to 2020-21 is also estimated at 5.72 Percent against the National average of 5.01Percent.
COVID-19 Pandemic has severely impacted the economies all over the globe and economic contraction is experienced by most of the economies.
It is estimated that Indian economy will contract by 7.7 Percent during the year 2020-21 as per the Advanced Estimates released by Government of India.
Odisha's economy is expected to have a relatively lower contraction of 4.9 Percent during 2020-21.
These points to the fact that the economic base of the state has become stable and it is capable of managing fiscal risks and continues on the path of prudent fiscal management with desired thrust on all round socio economic development for inclusive growth, pointed out Development Commissioner Pradeep Jena.
The Economy of Odisha has grown at 7.1 percent per annum during the period 2012-13 to 2019- 20 (at constant 2011-12 basic prices) and expected to contract by 4.92 percent in 2020-21 as per the Advance Estimates.
The decline in the growth rate between 2019-20 and 2020-21 (Advance Estimate) is attributed to the impact of COVID-19.
So far Agriculture and allied Sectors are concerned, while there was a growth in this sector of 11.92PC in 2019-20, but in 2020-21Advanced Estimate shows that the sector is going for a contraction of 6.54 Percent at 2011-12 constant prices.
The impact of COVID-19 Pandemic, Cyclone Amphan and heavy flood during first half of 2020-21 and long dry spells in Kharif might be the cause of contraction in Agriculture Sector.
So far the rural poverty in Odisha is concerned it was reduced by 25 percentage points between 2004-05 and 2011-12 (i.e from 60.8% to 35.69%) which is much higher than the national reduction of 16 percentage points.
Similarly the Poverty Gap Ratio (PGR) was reduced by 10.36% for rural Odisha against the rate of reduction for rural India as 4.59%.
Similarly Industrial development, which is the engine of economic growth has currently leads the developmental change of the State, constituting 36 Percent of States' Gross Value Added(GVA) relative to 26 PC at the All India level as per 2020-21Advanced Estimate.
Inflation continued to moderate from 2014-15 to 2018-19 for India and from 2014-15 to 2017-18 for Odisha where after it exhibited a rising trend.
During the seven-year period from 2014-15 to 2020-21, Odisha experienced lower inflation relative to India for four years from i.e. from 2016-17 to 2019-20 but for the remaining three years i.e. 2014-15, 2015-16, and 2020-21 the state had to bear higher inflation in comparison with India.